Why Birds Of Prey Is Rated R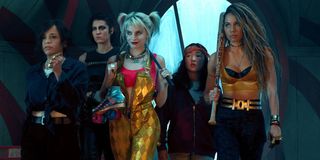 Birds of Prey, otherwise known as Birds of Prey and the Fantabulous Emancipation of One Harley Quinn, is headed to theaters in just a few months. While it gears up for its theatrical debut, we're steadily learning more details, including the fact the movie will officially be Rated R.
It's not an unprecedented move in the DC Universe or DCEU, if we're still calling it that. While Suicide Squad went for a PG-13 rating to tie in with Zack Snyder's movies, Joker recently went for an R-rating. Plus, other superhero movies at other studios – most notably Ryan Reynolds' Deadpool-oriented flicks—have been successful with an R bent.
So, Why Will Birds of Prey Be R-rated?
Mostly for violence and language, but there are a few other notes thrown in. Per the MPAA:
Some sexual content doesn't usually include nudity, otherwise nudity tends to be explicitly stated in the MPAA rating, but it does mean that Harley Quinn and her compatriots are unlikely to be tame, which, duh. The rest of this clarifies some of the ideas we've already seen in the trailers for the movie. Yes, this movie will be violent, and yes our female heroines will use foul language--particularly one Harley Quinn.
Although many may have expected or at least hoped for an R rating for a little while, what this does signal is Warner Bros. and DC's interest in being an alternative to competitor Marvel's predictable PG-13 image.
This History Behind The Latest DC Movie And Its Rating
The news also comes some months after rumors indicated Birds of Prey – which was originally pitched as an R-rated film – would not be R-rated at all. Earlier in 2019, it looked as if Warner Bros. hadn't settled on a rating for the Harley Quinn and otherwise girl power-centric DC film.
One major thing happened between that report and this one however: Joker released into theaters. That Todd Phillips movie was made on a fairly middling budget (low budget by superhero standards), and went on to make more than a billion dollars worldwide, despite its R rating. Yes, that's billion with a "b."
So, now Todd Phillips has proven DC can really play in a wide sandbox and still make money, which should lead to more creativity from the studio overall. It's also worth pointing out that DC seems less focused on a shared universe and more focused on simply making interesting one-off movies at this point.
When our own Eric Eisenberg attended the set of the Birds of Prey movie, he learned the flick was going for more of an adult feel and adult-oriented themes, so the fact that DC and Warner Bros. are feeling more confident about R-rated material right now is good timing for this film.
In fact, it also should mean there's room for all kinds of projects at all kinds of ratings. For example, while the official rating guidelines aren't out for Birds of Prey's DC follow-up, Wonder Woman 1984, that movie is highly likely to stick to a PG-13 rating (that movie's frustrations have had more to do with release dates shifting).
Birds of Prey Is hitting theaters on February 7, just before the Valentine's Day holiday. That's also a month in which R-rated movies have done well, with the aforementioned Deadpool crushing the box office at that point in the schedule when it came out in 2016. We'll have to see if The Fantabulous Emancipation Of One Harley Quinn is able to follow suit.
Your Daily Blend of Entertainment News
Reality TV fan with a pinch of Disney fairy dust thrown in. Theme park junkie. If you've created a rom-com I've probably watched it.