The Hardest Thing About Filming Little Women Was Probably Not What You'd Guess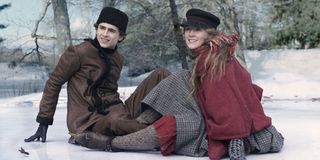 Little Women, like most movies, did face some challenges while it was coming together. Amy Pascal, former Chairperson of Sony Pictures Entertainment and current producer of Little Women, recently shared "the hardest thing" about filming the period drama. Honestly, I did not see her answer coming in the least.
Because Little Women features notable names and period costumes, I would have assumed her answer had to do with making sure cast members like Meryl Streep were available or even wearing all the period garb of the day. But actually, the hardest thing to deal with on the set of the Oscar-nominated movie was the weather. Specifically, the cast and crew spent a lot of time waiting for snow. Or as Pascal put it:
Getting period details right is hard enough, but getting certain iconic scenes from Louisa May Alcott's book to appear how people remember them on the big screen is even harder. You can't adjust a scene in the icy cold and snow if the weather doesn't cooperate. This isn't a Hallmark movie where fake weather can be expected. It needed to be accurate, and cold much of the time.
It's worth pointing out it wasn't so long ago that the BBC TV version of Little Women got a bit of flack for "crap fake snow," with other users also pointing out "the snow was RISING not FALLING." So, clearly, there is a wrong way to do weather patterns and a right way to do weather patterns, and the Sony movie chose the hard path.
In the interview with THR, Amy Pascal also touched on getting frustrated on movie sets and occasionally wondering if things were not going to work out, noting,
After all, it wasn't particularly easy to get Little Women made in the first place. It was a dream of Greta Gerwig's for a while. She pitched it to Amy Pascal, in fact, before she went off to direct Lady Bird. It was only when that movie got traction that Sony got interested enough to greenlight the project.
Then, it was off to the races, but apparently only on the days the weather would cooperate in Massachusetts, where the movie filmed. The final product looks great though, and has earned some attention during this year's awards season (though Greta Gerwig was snubbed at several events in the director's category), as well as made plenty of money for the studio. All in all, it seems it was snow problem.
Reality TV fan with a pinch of Disney fairy dust thrown in. Theme park junkie. If you've created a rom-com I've probably watched it.
Your Daily Blend of Entertainment News
Thank you for signing up to CinemaBlend. You will receive a verification email shortly.
There was a problem. Please refresh the page and try again.