10 Classic Hallmark Christmas Movies That Are Worth Rewatching This Holiday Season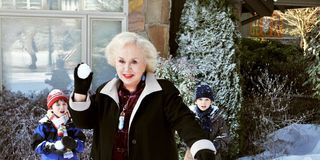 Tis the season to spend time with the family, make cookies for Santa Claus, and embrace holiday traditions. For many jolly souls, watching Christmas movies has become part of their family's holiday festivities. Whether they stream, rent, or visit the theater, the holiday season offers a wide selection of new and classic Christmas films. Hallmark is one network known for keeping the spirits bright from October to January with their Hallmark Christmas movies.
These films show their leads, and the viewers, how falling in love sometimes comes from Christmas magic. Hallmark Christmas movies are all about town spirits, destined love, the joy of children, and believing in the miracles of the holidays. To help everyone get in the holiday spirit, let's look back at some of Hallmark's classic Christmas movies. The films on this list were selected for either their star power, storylines, or being a little different from the usual Hallmark Christmas tales.
The Mistletoe Promise (2016)
Based on Richard Paul Evans's best-seller of the same name, The Mistletoe Promise follows Elise Donner (Jaime King) and Nick Deer (Luke Macfarlane) as they get to know each other during the holiday season. In the past, they both have experienced bad Christmas events, so they have developed a disdain for the joyous holiday. Nick needs to make partner at his law firm and Elise doesn't want to deal with her cheating ex and his new girlfriend, the woman he cheated on her with, during the holidays. Nick and Elise have a chance encounter. They decide to help each other get through their perspective problems, which of course leads to love.
The Mistletoe Promise follows the traditional Hallmark pattern of strangers falling in love, but adds a small twist with the two strangers being Grinches. The film offers a sweet romantic adventure about two people rediscovering the magic of the holidays together. The Mistletoe Promise has great source material from the best-selling book, and Hallmark delivers a gleeful adaptation.
The Christmas Train (2017)
In The Christmas Train, Tom Langdon (Dermot Mulroney) plays a cynical journalist who takes a trip from Washington, D.C to Los Angeles on Christmas. This train ride leads to Tom having various encounters with different passengers, including one of his exes, Eleanor (Kimberly Williams-Paisley).
Essentially, The Christmas Train is all about regaining the spirit of Christmas through random meetings. Tom meets a variety of memorable characters on the train, which makes him see the good in humanity again. It allows Tom to restore not only his sense of hope, but it helps inspire him to write a story about his deceased father. The Christmas Train features some big stars: Dermot Mulroney, Kimberly Williams-Paisley, Danny Glover, and Joan Cusack.
Christmas Everlasting (2018)
Hallmark's 2018 Christmas movie Christmas Everlasting starts on a somber note: Corporate lawyer Lucy (Tatyana Ali) must return home after her special needs sister dies. She must settle her sister's estate. Too focused on becoming partner, Lucy neglected to answer her sister's last call, so she returns home with a lot of regret and sorrow. Lucy's sister puts in her will that she must live in their childhood home for 30-days in order to inherit it.
Christmas Everlasting starts a bit sadder than many of Hallmark's Christmas movies, but it offers the same themes of love, hope, and forgiveness. Christmas Everlasting's ensemble cast also includes Dennis Haysbert, Dondre Whitfield, and Patti LaBelle. You're definitely in for some Christmas cheer if you add Patti LaBelle to a Christmas movie.
Mrs. Miracle (2009)
In 2009, Hallmark began its annual Countdown to Christmas programming, which has evolved into their annual holiday movies. This makes Mrs. Miracle one of the network's early holiday films. Hallmark based Mrs. Miracle on a novel by best-selling romance novelist Debbie Macomber.
Widower Seth Webster (James Van Der Beek) needs a housekeeper to help him manage his six-year-old twin sons. In steps Mrs. Merkle (Doris Roberts) to act as Seth's Mrs. Miracle in all aspects of his life, including his love life. Mrs. Miracle has an amazing cast with the late Doris Roberts, James Van Der Beek, and Erin Karpluk. It's also one of the films that helped start Hallmark's obsession with recently widowed characters. Mrs. Miracle is one of Hallmark's all-time classic Christmas movies, because can you ever really go wrong with a Debbie Macomber romance movie?
Christmas At Cartwright's (2014)
How many Hallmark Christmas movies can you name that involve a woman living a secret life as a department store Santa Claus? That's right, not many. Christmas at Cartwright's follows single mom Nicky Talbot (Alicia Witt) as she looks for work to ensure a magical Christmas for her 8-year old daughter Becky (T.J McGibbon). At first, Nicky isn't hired as Cartwright's store Santa Claus. However, with the help of an Angel named Harry (Wallace Shawn), Nicky secretly becomes Cartwright's new store Santa.
Christmas at Cartwright's is an equal opportunity movie, giving Christmas movie fans one of the very few female versions of Santa Claus. The Hallmark movie also has all the things that create endearing Christmas movies: holiday love, adorable children, angels, and Santa Claus.
NorthPole (2014)
Tiffani Thiessen, Josh Hopkins, Bailee Madison, and Max Charles star in Northpole. In the 2015 sequel, Northpole 2: Open for Christmas, Dermot Mulroney and Lori Loughlin take over the lead couple role that was previously occupied by Tiffani Thiessen and Josh Hopkins.
Northpole is another Hallmark film about someone losing his or her holiday spirit. This time Chelsea (Thiessen) is the single mom in need of some holiday cheer. Her son Kevin (Max Charles), his teacher Ryan (Josh Hopkins), an elf named Clementine (Bailee Madison), and a gospel singer named Josephine (American Idol winner Candice Glover) all get in on the action to make Chelsea remember the glory of the holidays. Northpole is the infectious Christmas movie that you need to add a sense of whimsical to your holiday fun.
A Christmas Love Story (2019)
Kristin Chenoweth brings her bold voice to A Christmas Love Story. This film starring Chenoweth as the director of a youth choir was only recently released on Hallmark, but it's already becoming a Hallmark Christmas movie classic. Kristin Chenoweth stars opposite Scott Wolf, who plays a widowed father with a son who has a lot of musical talent. Katherine Clark (Kristin Chenoweth) and Greg Scanton (Scott Wolf) meet because of Greg's son, Danny (Kevin Quinn). Through helping Danny, Katherine and Greg fall in love.
Kristin Chenoweth's infectious energy is mainly what carries A Christmas Love Story. However, the movie has other strong aspects like the natural chemistry between Scott Wolf and Chenoweth, a few unexpected plot twists, and Kristin Chenoweth's high notes. A Christmas Love Story premiered on December 7 and is currently playing on Hallmark through the holiday season.
A Royal Christmas (2014)
Before Princess Amber (Rose McIver) and Prince Richard (Ben Lamb) were a couple in Netflix's A Christmas Prince series, Hallmark was in the marrying royals business. Lacey Chabert plays Emily Taylor, a seamstress who finds out her boyfriend, Leo James (Stephen Hagan) is a prince. Now Emily must learn how to mingle with royals during the Christmas holiday.
This Hallmark film reminds everyone the joy of finding out that your boyfriend is a prince. A Royal Christmas is a cute romance movie and fish-out-of-water story similar to A Prince Diaries and The Prince & Me. If you've watched the A Christmas Prince series a little too many times, and need something new, then A Royal Christmas should fill your void for common girl and prince stories.
The Nine Lives Of Christmas (2014)
Arrow-verse regular Brandon Routh stars in this feline friendly romantic holiday film. In The Nine Lives of Christmas, Brandon Routh plays firefighter Zachary Stone. Zachary is commitment-phobic but one day he rescues and adopts a stray cat. Kimberly Sustad plays Marilee White, a veterinary student.
Routh and Kimberly Sustad are an instantly likable duo in The Nine Lives of Christmas. This Hallmark Christmas movie follows the usual patterns, but it's a lovely adventure that makes you root for the characters, and The Nine Lives of Christmas shows a lot of compassion and love for pets.
Christmas in Conway (2013)
Before Mandy More began bringing This is Us fans heartwarming moments each week, she gave them holiday emotions with Christmas in Conway. Duncan Mayor (Andy Garcia) wants to give his wife Suzy (Mary-Louise Parker) a special Christmas present. To make it possible, he reluctantly enlists the help of her hospice care nurse, Natalie (Mandy Moore) and Suzy's former student Tommy (Riley Smith). The present is a Ferris wheel built right in his backyard. Of course, his neighbors in Conway, South Carolina are less than amused with this development.
The film features quite a few major stars like Andy Garcia, Cheri Oteri, Mary-Louise Parker, and Mandy Moore. It's one of Hallmark's sadder premises, but the film works so well because of the fantastic acting by the entire cast. Each character in Christmas in Conway fits their characters and provides emotional depth to their roles.
Hallmark has plenty of Christmas movies to enjoy this holiday season. Many of them are available through direct streaming on Hallmark Movies Now, and through your cable subscription. Sit back and enjoy some of these movies as they remind you of the power of love during the holidays.
Spent most of my life in various parts of Illinois, including attending college in Evanston. I have been a life long lover of pop culture, especially television, turned that passion into writing about all things entertainment related. When I'm not writing about pop culture, I can be found channeling Gordon Ramsay by kicking people out the kitchen.