The Gentlemen Has A Fun Nod To Guy Ritchie's The Man From U.N.C.L.E.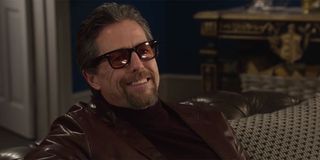 Spoilers from Guy Ritchie's latest film are all up in this article. Don't say I didn't warn ya.
When we talk about Guy Ritchie classics, Snatch and Lock, Stock and Two Smoking Barrels are frequently brought up. But there's one more recent movie Guy Ritchie fans really enjoy and that is The Man From U.N.C.L.E, the 2015 spy movie starring Armie Hammer, Henry Cavill and Alicia Vikander. If you are one of the low-key fans of the movie like me, Ritchie's new movie The Gentlemen has a little treat for you.
In fact, in a scene late in the movie, a major character is in a studio office sporting a poster to The Man From U.N.C.L.E. It's a quick homage, but it was one I really appreciated as in general U.N.C.L.E. doesn't get enough love. In fact, at one point Guy Ritchie didn't even realize the movie had a fanbase rallying around it.
To get into the Man From U.N.C.L.E nod, first we have to get into a little backstory, so let's back up here and tell this story a little bit out of order, just like The Gentlemen does. In the flick, Hugh Grant plays a man named Fletcher, a brazen blackmailer who meets up with Charlie Hunnam's Ray very early in the movie to see if he can squeeze some dollars out of Ray and his employer Mickey Pearson (played by Matthew McConaughey).
Whether or not this scheme succeeds is neither here nor there, but what this has to do with a Man From U.N.C.L.E. poster is rather interesting.
For one, Fletcher is not just a blackmailer, he's also a wannabe movie writer and he has a whole script planned based on the events in The Gentlemen, which is all kinds of meta. Secondly, at one point later in the movie he brings the script he's been shoving under Ray's nose for much of the movie to an actual Hollywood studio, which is where the Man From U.N.C.L.E poster is hung.
Unfortunately, we don't get to see the poster pop up again, although this has less to do with disinterest from Miramax, the studio portrayed in the movie and more to do with the events that do unfold after this movie pitch meeting, which I won't spoil here.
Look, Easter eggs are always super fun and it's often pretty easy for movies in a cinematic universe or franchise to bring in these sorts of nods. You know what's more difficult? Finding organic ways to to tie-in with a director's oeuvre. In this case, the whole Fletcher subplot with his movie biz obsession tied in perfectly, and kudos to whatever set designer or person on set came up with the nod.
I came, I saw it, I loved it.
The Gentlemen even featuring Hugh Grant is also a nice tie-in with Man From U.N.C.L.E, which features Grant in a small role as Alexander Waverly, who works for MI6 in that film. He's not the only repeat collaborator in The Gentlemen, either, as Guy Ritchie and Charlie Hunnam were also teamed up for King Arthur: Legend of the Sword.
You can catch the flick in theaters now, in a nice, not-super-populated winter theatrical timeslot opposite Bad Boys For Life (which granted is a similar type of movie). More on Guy Ritchie and the importance of release dates below though...
Reality TV fan with a pinch of Disney fairy dust thrown in. Theme park junkie. If you've created a rom-com I've probably watched it.
Your Daily Blend of Entertainment News
Thank you for signing up to CinemaBlend. You will receive a verification email shortly.
There was a problem. Please refresh the page and try again.