The 12 Best Easter Eggs From Avengers: Endgame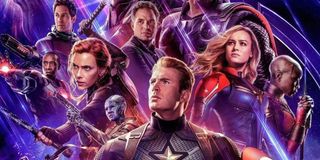 It's no secret the Marvel movies love to reward fans. The franchise built its impressive standing in the entertainment industry through a devotion to thanking the folks who watch and then rewatch the explosive blockbusters. It takes a lot of time and effort to keep up with this vast spectacles inside the Marvel Cinematic Universe. If you make a point to watch all 23 blockbusters to date, producer Kevin Feige and his team of big budget filmmakers want to make sure you feel like your time has been well-spent inside this gigantic on-screen multiverse. Sure enough, for all the eagled eye viewers watching Avengers: Endgame like Hawkeye, there are lots of worthwhile easter eggs inside this huge, expansive cinematic coda.
There are assuredly hundreds of easter eggs to be found inside Avengers: Endgame. I wouldn't be surprised if some of them are still left hidden. For now, though, let's take a look at some personal favorites, related to either earlier film installments, their comic book influences, or other key connections.
X-Men's Roberto da Costa (i.e. Sunspot) On The Vanished Memorial
With the Fox merger completed as of this year, it's only a matter of time before the Marvel Cinematic Universe expands to include everyone's favorite X-Men characters. It's hard to know exactly when the shift will happen, but there's good money on it happening sooner rather than later — especially if the blink-and-you-missed-it easter egg in Avengers: Endgame is a proper indication. During the sequence where Scott Lang (Paul Rudd) pays a visit to the Vanished Memorial, Roberto da Costa is one of the names found on the board. Better known as Sunspot, da Costa is one of the New Mutants.
Some Hulk-Friendly Ben & Jerry's Ice Cream
In one of the heist-planning sessions, the sort that are necessary before you travel back in time, Professor Hulk is seen eating from a jumbo carton of Ben & Jerry's ice cream. While this isn't officially confirmed yet, there is good reason to believe that the humungous ice cream is one of two flavors: Hulk-a-Hulk-a-Burning-Fudge or Stark Raving Hazelnuts, both of which were previously introduced (or, at least, mentioned) in Avengers: Infinity War.
Captain America Can Do This All Day
In 2011's Captain America: The First Avenger, as a no-muscled Steve Rogers was cornered by some not-very-friendly people, he utters a quote that rings throughout the series: "I can do this all day." These are words that are notably said once more in Captain America: Civil War. And when it comes time for some Captain America on Captain America action, you better believe the patriotic superhero will say it again — much to his own annoyance.
The Falcon Is On Captain America's Left
In Captain America: The Winter Soldier, there's a moment where Sam Wilson, i.e. The Falcon, and Steve Rogers, i.e. Captain America, are jogging through the nation's capital. In that moment, Rogers is expectedly outpacing his fellow crime-fighter, making a note to say "On your left" while making his way past his friend. Those words ring throughout the series again as this time, Sam Wilson tells Captain America he's on his left in the rising action of Avenger: Endgame's high-stakes, all-out brawl of a climax. It is good to know that Sam and Steve are always beside one another.
Iron Man Knows Who He Is
At the very end of 2008's Iron Man -- the movie that started it all -- Robert Downey Jr. closes the story out by announcing to the press and public that he is Iron Man. Where most superheroes try to keep their identity a secret, this is one guy who is never afraid to own up to his heroics. Owning up to his mistakes is another matter. But when it comes to Tony Stark's most selfless deed, this hero isn't afraid to announce his presence. As Thanos says that this is "inevitable," Tony Stark remarks, once more, that he is Iron Man, tying the end back to the beginning before snapping with the Infinity Gaunlet.
Captain America Doesn't Want Bucky To Do Anything Stupid
Just before Captain America makes his way into the Quantum Realm, he turns to his loyal friend and sometimes enemy and tells him not to do "anything stupid until I get back." This is a line first coined by Bucky in Captain America: The First Avenger. At the time, Captain America claimed "How can I? You're taking all the stupid with you," which is what Bucky says this time around as Captain America embarks on his final adventure.
Thanos Scarecrow Armor Is A Nod To His Origins
Towards the beginning of Avengers: Endgame, there is a shot where Thanos' armor is seen on a pair of sticks, in a scarecrow formation as he tends to his garden. This is a direct reference to the Infinity Gaunlet comics, as this image is very memorable and therefore a quick mention for the comic book fans.
Harley Returns
In Iron Man 3, Tony Stark befriends a lightning smart boy named Harley Keener, played by Ty Simpkins (who is a bit older these days). Notably, the child character has been absent throughout the remainder of the series, but he came back to pay his final respects during the funeral sequence. Iron Man's legacy wasn't lost on him.
Stan Lee's Cameo Is A Blast From The Past
In his final bittersweet cameo in the franchise, Stan Lee is seen in the '70s as an antiwar hippie. He yells, "Hey man, make love, not war!," as he drives off with a license plate that prominently has 420 on it. This cameo appears to be in connection to a photo of the famous comic book creator, and the inclusion of a 420 reference makes you realize that Endgame might be one of the first — if not the first — Disney movies with an indirect weed reference.
Jim Starlin Is In Therapy
Speaking of cameos, there are more than a few to be found throughout Avengers: Endgame. While the bigger ones are quite noticeable, there is one in an earlier moment in the film that might've escaped some people's notice. During the group therapy session with Captain America, which also features a cameo from co-director Joe Russo, Jim Starlin is seen in this scene. For those who don't know, Starlin is the creator of both Thanos and the Infinity Stones. He is the writer behind The Infinity Gaunlet series, so it's nice the franchise is paying its respects with this cameo — especially since Starlin has not been on particularly good terms with Marvel in recent years.
Howard The Duck Returns Once More
Howard the Duck is no stranger to cameos inside the Marvel Cinematic Universe. He made an appearance during the end credits of Guardians of the Galaxy, and he cameoed once more in Guardians of the Galaxy Vol. 2. In Endgame, Howard can be seen next to Wasp (Evangeline Lilly) during the scene where all the assorted characters throughout the MCU join the fight via Doctor Strange's near infinite realm of portals in order to defeat Thanos. Until Hulu's Howard the Duck's show comes along, this will have to suffice for fans of the character. it's kinda strange that a Howard the Duck flick is now in the highest-grossing film of all time, isn't it?
Black Widow's Ballet Shoes
During Avengers: Age of Ultron, we're given a glimpse back at Black Widow's past. In that flashback, we see the character was once a ballet dancer in the Red Room, during one of the movie's more haunting moments. It's one of the moments where she was trained to become Black Widow, and while we don't often see Natasha dancing, it would seem that Nastasha's dancer past is not far behind. A pair of shoes can be seen on her desk.
These are only 12 of the multiple nods, references and cameos seen throughout Avengers: Endgame. Let us know your own favorites in the comments!
Your Daily Blend of Entertainment News
Will is an entertainment writer based in Pittsburgh, PA. His writing can also be found in The Playlist, Cut Print Film, We Got This Covered, The Young Folks, Slate and other outlets. He also co-hosts the weekly film/TV podcast Cinemaholics with Jon Negroni and he likes to think he's a professional Garfield enthusiast.