Apparently Some People Are Mad About Birds Of Prey's Characters Not Looking Sexy Enough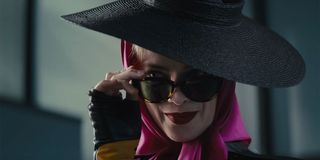 In the months since we first started seeing posters and footage from Cathy Yan's upcoming DC movie Birds of Prey, actresses like Margot Robbie have admitted the looks of the characters were "less male gaze-y" than some of the other genre films. While the movie isn't out in theaters yet, some people have expressed distaste for the looks sported by some of the leading ladies in Birds of Prey: And The Fantabulous Emancipation Of One Harley Quinn and some of them have been open about the leading ladies not looking sexy.
This week, one set of tweets in particular spurred an online response after stating Birds of Prey will bomb because the ladies don't look hot enough. This dude notes that Birds of Prey will appeal to a "girl power" audiences before conversely claiming "they literally don't know" who the movie is for.
That tweet got a lot of attention, so naturally there was a follow-up also talking about how women only like to see "attractive women."
One dude on the Internet doesn't speak for every dude, although I'm a little galled to think this particular dude was able to rile up so many people on the internet and get so much attention for his thoughts. Yet I digress, because he's not the only male comfortable with that opinion, given it has quite a few likes and retweets.
In addition, the idea that Birds of Prey is trying to uglify its cast popped up on the Internet in the days prior to the viral tweets above, specifically in the context of what Harley Quinn is wearing in the Birds of Prey trailers compared to the skimpy outfit she sported in Suicide Squad. A skimpy outfit that I would like to reiterate was super uncomfortable to film in and that Margot Robbie has spoken out about before.
It's not just Margot Robbie who is getting flack for her costume choices, however. Apparently, Mary Elizabeth Winstead isn't sexy enough in the upcoming movie, either.
Although there's some hate online about the choices Birds of Prey has made and there are plenty of questions about who the intended audience is, a lot of people have commented on the above ideas and threads defending what the movie is trying to do. Or at least defending the idea that Margot Robbie is not just onscreen to be a pair of legs that are pleasing for men to look at.
Others have defended Mary Elizabeth Winstead after some other dudes haven't thought she looked hot enough either as Huntress.
In the new movie, the leading ladies in Birds of Prey wear a lot of bright colors and wild clothes – the now-famous caution tape costume comes to mind – but they've also spoken out about how costumes were chosen for The Fantabulous Emancipation Of One Harley Quinn. Rosie Perez, the oldest cast member in the girl gang, previously said she was pretty happy she wasn't stuck in hot pants "because her ass is great," noting the goal was to feel good in the clothes.
Look, Birds of Prey isn't out yet and I'm not sure the DC movie will be any good or break any records at the box office, although it is currently tracking at a $40 million - $60 million opening weekend. But if it doesn't make that much money, I don't think it will be because Harley Quinn eats Cheez Whiz in cat pajamas. In fact, that just inspires me to want to see the movie in cat pajamas. We should all be lucky enough to see the movie in cat pajamas. And if you don't like cat pajamas, as the immortal Gretchen Wieners always says, "You can't sit with us!"
Birds of Prey is out on February 7.
Reality TV fan with a pinch of Disney fairy dust thrown in. Theme park junkie. If you've created a rom-com I've probably watched it.
Your Daily Blend of Entertainment News
Thank you for signing up to CinemaBlend. You will receive a verification email shortly.
There was a problem. Please refresh the page and try again.