Country Music Icon Kenny Rogers Has Died At 81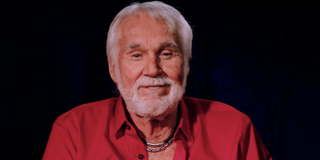 Kenny Rogers, the country music singer behind legendary hits like "Lady" and "The Gambler" has died. He was 81 years old.
The singer and actor's career lasted more than six decades and resulted in countless accolades, including three Grammy awards. He was inducted into the Country Music Hall of Fame in 2013. In an official statement (via Variety) from the Rogers family, his cause and time of death were revealed:
Throughout his career, Kenny Rogers recorded 65 albums and sold more than 165 million records. In the 1950s, he debuted as a soloist, before joining several groups, including First Edition. In 1976, he once again went solo and began to amass a series of pop-country hits. His numerous duets with artists like Sheena Easton, Bob Seger, and Lionel Richie further cemented his power as a crossover artist and hitmaker. He also lent his voice to the iconic "We Are The World" collaboration.
Kenny Rogers also found success as an actor in dozens of small roles throughout his career, most notably in the 1982 racing film Six Pack and in multiple made-for-TV movies based on his song "The Gambler." He also played himself in the 1995 CBS movie Big Dreams and Broken Hearts: The Dottie West Story. In addition to appearing in films, his music has also played a prominent role in Hollywood. His songs have been featured in some of the most memorable moments from Stranger Things, The Big Lebowski and Urban Cowboy, just to name a few.
Some of Kenny Rogers' friends and contemporaries have already addressed his passing on social media. Singer and long-time collaborator Richard Marx was devastated:
And Dolly Parton, who co-wrote the iconic "Islands in the Stream," shared a video message commemorating the man she called a "true friend":
The official Kenny Rogers YouTube channel shared a video, called "Kenny Rogers Farewell," shortly after news about his death broke. The clip was originally posted in 2015 and features the singer announcing his retirement from touring. Still, the sentiments he shared then feel especially poignant now:
Kenny Rogers is survived by his wife, Wanda Rogers, and his five children. Due to the ongoing coronavirus pandemic, his family is planning a small, private memorial at an unspecified time in the future.
Your Daily Blend of Entertainment News