Is Jeff Bridges Teasing The Return Of The Dude From The Big Lebowski?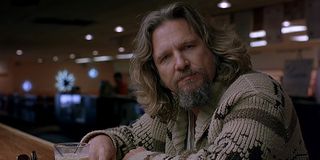 If I mention Jeff Bridges, chances are that the first role of his that will pop up in a lot of your heads is The Dude. It's been over two decades since The Big Lebowski was released, and the Coen Brothers-directed movie remains a cult favorite. So when Jeff Bridges posts a video of himself wearing The Dude's classic garb, naturally that's going to attract attention. Check it out!
Jeff Bridges says not to live in the past, but even so, it's nice to see him back as The Dude over 20 years later. To quote Sam Elliot's The Stranger, "It's good knowin' he's out there. The Dude. Takin' 'er easy for all us sinners." As for what's going on with The Dude in this Twitter video, it looks like he's entered a restaurant judging by the broken glasses and dishes. Beyond that, it's hard to determine what's going on, although the tumbleweed blowing outside of the building is a nice touch too, calling back to the opening of The Big Lebowski.
Now before any of you start getting excited about the possibility of a Big Lebowski sequel, look at the date at the end of the video: 2.3.2019. February 3 is when the Super Bowl airs, so it's reasonable to assume that Jeff Bridges was hired to reprise The Dude for one of the game's big ads, and this is a clip from said ad. This isn't the first time that companies have channeled movies to promote their products during the Super Bowl. For example, in 2012, Matthew Broderick starred in a Honda commercial where he traveled around Los Angeles for a Ferris Bueller's Day Off-like day of fun, and last year, faux previews for a new Crocodile Dundee movie starring Danny McBride and Chris Hemsworth were actually lead-ups to a Tourism Australia commercial.
Who knows, maybe we'll be pleasantly surprised and be treated with a legitimate preview for a Big Lebowski follow-up that reunites The Dude with John Goodman's Walter, Julianne Moore's Maude and the spirit of Steve Buscemi's Donny. But judging by the day we're promised more Dude footage and Jeff Bridges' caption, place your bets on The Dude being brought in to sell Doritos, Budweiser, etc.
It should be noted that while there aren't any officially-announced plans for a Big Lebowski sequel, a minor character from the first movie, John Turturro's Jesus Quintana, is leading his own spinoff, titled Going Places. That movie shot in 2016, but no release date has been set, and no other characters from The Big Lebowski are expected to appear. As for The Dude's return, even if it just ends up being for a 30 second-1 minute TV spot, ideally it will be an appearance that fans get a kick out of amongst the Super Bowl's other entertaining commercials.
Stay tuned to CinemaBlend for all the latest updates in movie news, and don't forget to look through our 2019 release schedule to find out what's hitting theaters later this year.
Connoisseur of Marvel, DC, Star Wars, John Wick, MonsterVerse and Doctor Who lore. He's aware he looks like Harry Potter and Clark Kent.
Your Daily Blend of Entertainment News
Thank you for signing up to CinemaBlend. You will receive a verification email shortly.
There was a problem. Please refresh the page and try again.