Will Ferrell's Downhill And More Announce Early Release For Those Running Out Of Movies At Home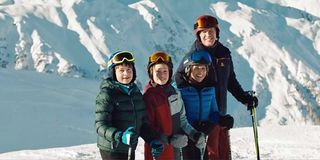 With theaters almost entirely closed around the country, the only place to watch movies is at home. Studios have already fast tracked several films that would otherwise be in theaters right now to digital platforms, but if you've already burned your way through those, Disney's Fox divisions have you covered, as a pair of additional films, Searchlight's Force Majeure remake Downhill, and 20th Century's The Call of the Wild, will both be hitting digital platforms like Movies Anywhere, tomorrow, March 27.
Downhill hit theaters on February 14 and The Call of the Wild followed on February 21. Both films were still in theaters when everything closed down. Downhill had largely run its course at the domestic box office, though The Call of the Wild was still a top 10 film prior to things being shut down. Either way, we usually see digital releases for films hit three to four months after a theatrical release, so seeing both of these movies on Movies Anywhere basically a month after release is quite early, fitting the pattern of most other movies jumping to digital early.
What isn't fitting the pattern, interestingly, is the price. Whether being sold for digital purchase, as in the case of a movie like Onward, or 48-hour rental, like The Hunt, the given price for the early release movies that has remained constant has been $19.99. Both of these films will hit the market cheaper than that, with The Call of the Wild selling for $14.99 and Downhill going for $9.99.
One item not mentioned here are any short term streaming plans for either film. When Onward was released for digital purchase, Disney also announced that it would hit Disney+ only a couple weeks later. The Call of the Wild will almost certainly find a home on Disney+ as well at some point, but the plan may be to hold off on that for now. Downhill, being a more "mature" title, could certainly end up on Hulu eventually.
This lack of consistency in pricing and release isn't too shocking. All the studios are trying to figure out how to handle the current scenario, one for which there is no precedent. The theatrical experience is so key to the life cycle of a movie and nobody knows quite what to do under the circumstances. Certainly, The Call of the Wild and Downhill weren't blockbuster films. Some might be willing to spend $20 on Onward, but a lower price tag might end up resulting in more sales for these smaller films.
Even for purely selfish reasons its been great to have all these films dropped early so that fans can watch them while stuck wherever they are. Of course, at some point, the stream of newer films is going to dry up, since nothing new is being released. Who knows what we'll do then.
CinemaBlend's resident theme park junkie and amateur Disney historian. Armchair Imagineer. Epcot Stan. Future Club 33 Member.
Your Daily Blend of Entertainment News
Thank you for signing up to CinemaBlend. You will receive a verification email shortly.
There was a problem. Please refresh the page and try again.