Ryan Reynolds' Best Movies And Where To Stream Or Rent Them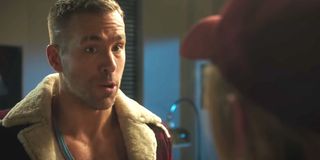 CinemaBlend is partnering with Tidal to bring you fresh content to stay in and stream with each day. We're also offering a free 30 day trial. You can sign up for the package with Tidal here.
CinemaBlend participates in affiliate programs with various companies. We may earn a commission when you click on or make purchases via links.
When Ryan Reynolds isn't continuing his years-long feud with Hugh Jackman, he's showing up in a ton of movies. He's starred in big-budget superhero blockbusters like Deadpool (sorry Green Lantern), slapstick comedies, and enough romantic films to fill a small library. But what are the Canadian actor's best movies and where can you watch them online?
With so many choices (both movies and streaming services), deciding on one or two of the Reynolds' best movies could take a long time, but I've put together this list of his most iconic roles and the different options you have to watch them from the comfort of your couch. Here are Ryan Reynolds' 11 best movies and where to stream or rent them online.
Deadpool (2016)
What's It About: The rated-R superhero movie follows Wade Wilson (Ryan Reynolds), a former Special Forces soldier turned gun for hire who is used as a guinea pig when he seeks a cure for an aggressive form of cancer. Little does his tormentor know that he will turn into a rude and crude disfigured masked vigilante with the ability to heal any and all wounds, no matter how severe they may be.
Why It's One Of Ryan Reynolds' Best Movies: It is almost like Ryan Reynolds and Deadpool were made for one another. After the nondescript performance as the Wade Wilson character in X-Men Origins: Wolverine, Reynolds took on the character once more, where it melded his own personality with the crude and rude attitude of the Deadpool character.
Stream It On FX Here.
Rent It On Amazon.
National Lampoon's Van Wilder (2002)
What's It About: What happens when Van Wilder (Ryan Reynolds), a seven-year college student at Coolidge College gets cut off by his wealthy father and threatened to be kicked out of school before finishing his degree? Well, the "big man on campus" finds out in the 2002 comedy National Lampoon's Van Wilder.
Why It's One Of Ryan Reynolds' Best Movies: For a lot of people, this was their first introduction to Ryan Reynolds, at least in a big screen role. With his distinct brand of comedy and charm, Reynolds' take on Van Wilder was just the beginning of what the future superstar had to offer.
Rent It On Amazon.
Waiting… (2005)
What's It About: Diners were probably more likely to be on their best behavior after watching the ridiculous antics and actions of the Shenaniganz wait staff in the 2005 comedy Waiting… Starring Ryan Reynolds, Anna Faris, Justin Long, and a large ensemble cast, this juvenile comedy still has people laughing 15 years after its release.
Why It's One Of Ryan Reynolds' Best Movies: Besides Van Wilder and Deadpool, Monty Cook is probably Reynolds' most notable characters. He's the unofficial leader of the wait staff and restaurant, and guides the rest of the staff through the day-to-day shenanigans of the restaurant.
Rent It On Amazon.
Definitely, Maybe (2007)
What's It About: When a recently divorced Will Hayes (Ryan Reynolds) is asked by his young daughter (Abigail Breslin) to share what life was like before marriage, he tells the story of how he fell in love with three different women. Over the course of Definitely, Maybe, Will's daughter tries to figure out which one later became his wife.
Why It's One Of Ryan Reynolds' Best Movies: This 2007 romantic comedy was released when Reynolds was still mostly known for his immature humor from movies like Van Wilder and Waiting, but the actor would prove that he could be a leading man in a love story as well.
Stream It On Starz (opens in new tab).
Rent It On Amazon.
Pokémon Detective Pikachu (2019)
What's It About: One of the few video game adaptations that actually takes chances and doesn't heavily rely on the game's plot, Pokémon Detective Pikachu follows the story of Tim Goodman (Justice Smith), a former pokémon trainer looking for his missing father alongside a Pikachu (Ryan Reynolds) donning a Sherlock Holmes hat. Throughout their journey to locate the missing detective, Tim and Pikachu form an unlikely partnership.
Why It's One Of Ryan Reynolds' Best Movies: What's not to love about a cute pokémon voiced by Ryan Reynolds? He brings so much charisma to an animated creature so convincingly that you forget that he is computer-generated. And then the emotional turn in the film's final moments brings it all home.
Stream It On HBO.
Mississippi Grind (2015)
What's It About: Perhaps one of the most depressing movies starring Ryan Reynolds, Mississippi Grind follows the long and morose road trip alongside the Mississippi River taken by two down-on-their-luck gambling addicts Curtis Vaughn (Ryan Reynolds) and Gerry (Ben Mendelsohn). This intimate and glacial-pace story of misery and addiction hits in all the right places.
Why It's One Of Ryan Reynolds' Best Movies: It's easy to both love and hate Reynolds' character throughout this 2015 drama distributed by A24. Throughout the entire movie, you don't know if Curtis is trustworthy or if he's going to skip down in the dark of night, and that adds a nice level of tension to this already tense movie.
Stream It On Netflix (opens in new tab).
Rent It On Amazon.
Adventureland (2008)
What's It About: Set in the late 1980s, Adventureland tells the story of a recent college graduate James Brennan (Jesse Eisenberg) who gets a summer job at a local amusement park while he tries to figure out what to do with his life. Along the way, he meets Em (Kristen Stewart), but as their friendship blossoms into something more, it is complicated by a certain handyman played by Ryan Reynolds.
Why It's One Of Ryan Reynolds' Best Movies: Immediately when Reynolds' character is introduced, he gives off the impression that will be playing the fun-loving, wise-cracking character he has played throughout his career. But as the story progresses, the facade is washed away to reveal a broken and torn man on the edge.
Stream It On Starz (opens in new tab).
Rent It On Amazon.
Smokin' Aces (2007)
What's It About: When Las Vegas magician and crime boss Buddy "Aces" Israel (Jeremy Piven) agrees to testify against an old friend and business partner, every bounty hunter in Nevada races to locate and take out the cocaine-fueled snitch. The only thing standing between the assassins and their target is FBI agent played Richard Messner (Ryan Reynolds).
Why It's One Of Ryan Reynolds' Best Movies: Reynolds plays the only redeemable character in the entire movie. While everyone is looking out for their own best interests, Reynolds' FBI agent stands up to the corruption and unnecessary violence throughout the entire movie, and then takes matters into his own hands in the final moments.
Stream It On Starz (opens in new tab).
Rent It On Amazon.
The Amityville Horror (2005)
What's It About: Based on the real-life story of mass murderer Ronald DeFeo Jr. who killed six members of his family in 1974, The Amityville Horror is a 2005 remake of the horror classic of the same name. Ryan Reynolds stars as George Lutz, a father possessed by mysterious voices who slowly transitions from a loving father to a man obsessed with killing his family.
Why It's One Of Ryan Reynolds' Best Movies: Coming off Van Wilder and Harold & Kumar Go To White Castle, it was strange at first to see Reynolds play a man possessed by evil spirits, but Reynolds pulls it off.
Stream It On Netflix (opens in new tab).
Life (2017)
What's It About: The 2017 science fiction thriller Life follows a group of astronauts played by Ryan Reynolds, Rebecca Ferguson, and Jake Gyllenhaal, after they discover the first trace of life on Mars. When they bring the found organism onboard the International Space Station, however, things take a turn for the worst as the being begins to evolve and take over the ship.
Why It's One Of Ryan Reynolds' Best Movies: Although Reynolds' character is only in Life for a small portion of the movie, he makes the most of his brief appearance with this captivating performance.
Stream It On FX.
Rent It On Amazon.
Woman In Gold (2015)
What's It About: Set more than a half-century after the events of World War II, The Woman In Gold tells the story of Maria Altmann (Helen Mirren), an old Jewish woman who attempts to reclaim the prized possessions she and her family left behind while fleeing Vienna. Though it seems like an impossible task, Randy Schoeberg (Ryan Reynolds), a young lawyer, feels he is up to the task.
Why It's One Of Ryan Reynolds' Best Movies: It was refreshing to see Ryan Reynolds play a character like Randy Schoeberg, especially after watching some of his raunchier roles over the years. His portrayal of the real-life attorney shows critics and audiences that Reynolds can be a serious actor from time to time.
Rent It On Amazon.
Those are just 11 of the great Ryan Reynolds movies that can be streamed or rented online. There are some pretty big omissions, like The Proposal for example, but the romantic comedy co-starring Sandra Bullock isn't available for streaming or online rentals at this time (unless you want to buy it outright). What is your favorite Ryan Reynolds movie? Let us know in the comments below.
This poll is no longer available.
Your Daily Blend of Entertainment News
Philip grew up in Louisiana (not New Orleans) before moving to St. Louis after graduating from Louisiana State University-Shreveport. When he's not writing about movies or television, Philip can be found being chased by his three kids, telling his dogs to stop yelling at the mailman, or yelling about professional wrestling to his wife. If the stars properly align, he will talk about For Love Of The Game being the best baseball movie of all time.
Your Daily Blend of Entertainment News
Thank you for signing up to CinemaBlend. You will receive a verification email shortly.
There was a problem. Please refresh the page and try again.