So Sweet! Robert Downey Jr. Gets Birthday Wishes From His Marvel Family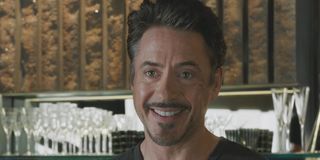 On April 4th, Robert Downey Jr. turned 55 years old. Since we're all quarantining, he wasn't able to have a huge birthday bash, but that didn't stop many of his friends from wishing him well. Throughout the day, several of his MCU colleagues logged onto Twitter to give him a birthday shoutout.
Chris Evans, a.k.a. Captain America, started things off by sharing a sweet message (and an adorable behind the scenes photo):
Then Mark "The Incredible Hulk" Ruffalo chimed in with a heartfelt note about the man of the hour and an even-more-adorable GIF of them hugging:
Basically, everybody loves RDJ 3000. Well, except Taika Waititi, who found a very Taika Waititi way to mark the occasion. Instead of posting a photo of Robert Downey Jr., he celebrated the birth of his friend by posting a picture of Graham Norton:
This mini-Avengers reunion may have been fully online, but it's pretty obvious that Robert Downey Jr. appreciated all the birthday greetings. In addition to retweeting his friends' tweets, he also shared a messages of his own with fans.
In one tweet, he expressed a sincere thank you for all of the birthday messages he received and included a cheeky GIF of himself as Sherlock Holmes winking that reminds everyone to stay healthy and safe:
On Facebook, he delved in even deeper with a longer thank you message to fans. The post's accompanying photo showed him wearing a medical mask and gloves and throwing up a peace sign. Though he didn't go into detail, he did hint that he has suffered losses during the pandemic, but he also stressed the importance of both vigilance and optimism and, most importantly, staying connected during these trying times.
It can't be easy to celebrate a birthday in the midst of something like this. So major props to RDJ for using yesterday's spotlight to remind us all to stay the course. He's one of many celebrities who has used his platform to remind fans to practice social distancing over the past few weeks. Several of his fellow Avengers have also spent time online helping to keep fans around the world entertained while we sit around at home.
Tom Holland and Jake Gyllenhaal did the shirtless handstand challenge on Instagram, while Ryan Reynolds sat back and judged them for it (while using his alter ego Deadpool to remind fans to stay the heck home). Chris Evans read bedtime stories for the Save The Stories campaign, while Brie Larson has been eliciting tips from her fellow Animal Crossing addicts on Twitter.
Hopefully by the time RDJ's 56th birthday rolls around, he'll be able to celebrate with his friends in person. Anyone who wants to see more of Downey palling around with his fellow Avengers can stream just about all of the Marvel Cinematic Universe films on Disney+ now.
Your Daily Blend of Entertainment News