American Psycho And 11 Other Great Movies That Turn 20 This Year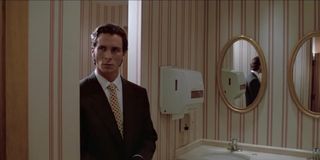 CinemaBlend is partnering with Tidal to bring you fresh content to stay in and stream with each day. We're also offering a free 30 day trial. You can sign up for the package with Tidal here.
It's crazy that 2000 was 20 years ago. If you grew up during the late-90s or early 2000s, you may remember when we all thought the world would end with Y2K because computers didn't seem equipped to handle the new millennium. Ah, simpler times. While the world had a major meltdown and global panic, filmmakers were busy preparing for the year by making some of the best films of the decade, including American Psycho, Bring it On, and Almost Famous.
Let's take a trip to nostalgia land and "man, am I that old?" world by revisiting some of the great films turning twenty in 2020.
Erin Brockovich (March 17, 2000)
Julia Roberts won her first Academy Award for Erin Brockovich. The film follows a single mother who becomes a legal assistant and quickly gets involved in a major class action lawsuit. This movie based on a true story, shows how she brings down a California power company that pollutes the city's water supply.
Julia Roberts had already made a name for herself in the romantic comedy realm, but this film helped her win more respect as a dramatic actor. Roberts became the first actress to win an Academy Award, BAFTA, Critics' Choice Movie Award, Golden Globe Award, National Board of Review, and Screen Actors Guild Award for portraying the same character. Erin Brockovich shows how everyday people can change the world, and that their stories need to be told more.
High Fidelity (March 31, 2000)
John Cusack, Jack Black, Catherine Zeta-Jones, and Iben Hjejle star in High Fidelity. The film is based on Nick Hornby's book of the same name. It follows record store worker Rob (John Cusack) as he talks about music and recounts the failure of several of his important relationships.
In 2020, Hulu debuted a TV version of High Fidelity starring Zoe Kravitz, the daughter of Lisa Bonet (who appeared in the original movie). High Fidelity is able to have a remake 20 years later because Rob is a character that people know and love. He feels like a friend who you've had or encountered. The story of nostalgia arresting development is also a topic that resonates with so many people.
American Psycho (April 14, 2000)
American Psycho was a film bathed in controversy way before it even began filming. The clutching of pearls for this film started early because of Bret Easton Ellis's controversial book of the same name. The book and movie focus on Patrick Bateman (Christian Bale), an unreliable narrator who works as a wealthy New York investment banker by day and a serial killer by night.
American Psycho received mixed reviews when originally released, and is still a film that divides audiences, but it now has gained more respect and appreciation from critics and film lovers. The film also helped launch Christian Bale's career, taking him from a supporting character to leading man. American Psycho is a film that starts conversations, makes you question reality and appreciate the divisive nature of art.
Gladiator (May 5, 2000)
Russell Crowe stars in Ridley Scott's Gladiator, a historical film about a man whose family is murdered. As a slave, he becomes a gladiator to rise through the ranks and avenge his family's death.
Gladiator won the 2001 Academy Award for best picture and it gained Russell Crowe a Best Actor award. According to The New York Times, Gladiator increased interest in Roman and classical history. The film also made people see Russell Crowe as an actor to watch. Currently, a Gladiator sequel is being developed. Whether the sequel turns out really bad or great won't change the impression Gladiator has made in the film history books. By many, it's consider one of the greatest hero's journey movies of all-time.
Scary Movie (July 7, 2000)
Scary Movie was co-written by Shawn and Marlon Wayans. They were featured in the film along with Carmen Electra, Shannon Elizabeth, Regina Hall, and Anna Faris. Scary Movie parodies many different horror and slasher films like Scream, I Know What You Did Last Summer, and The Blair Witch Project.
Scary Movie helped launch the careers of Regina Hall and Anna Faris. It also had four additional sequels. This wasn't the first horror parody movie, but it reignited the parody genre, leading to many bad parody attempts like Epic Movie, Vampires Suck, Dance Flick, and Disaster Movie. The parody genre isn't for everyone, but Scary Movie developed a strong cult following because of its hyper awareness, fearlessness with goofy gags, and some genuinely funny takes and commentary on the horror genre.
X-Men (July 14, 2000)
The X-Men characters have experienced so many pop culture versions, from cartoons to games. In 2000, Bryan Singer began his version of the X-Menstory that starred Patrick Stewart, Hugh Jackman, Ian McKellen, Halle Berry, and Famke Janssen. This X-Men movie follows the introduction of Wolverine (Hugh Jackman) and Rogue (Anna Paquin) to Professor Xavier (Patrick Stewart) and the X-Men school.
X-Men later had two other sequels that followed these versions of the characters, but then the two versions began to overlap with X-Men: Days of Future Past. The 2000 X-Men became the catalyst for the extended X-Men film world that includes six films about the X-Men team and seven spin-off series, including Dark Phoenix, Deadpool, and Logan. X-Men helped turn Hugh Jackman into the global superstar he is now.
Bring It On (August 25, 2000)
Kristen Dunst had already began building a career as the it girl when it came to teen movies. She had already appeared in cult classics Jumanji, Drop Dead Gorgeous, Dick, and The Virgin Suicides before appearing in Bring it On. The film just further elevated her star status. It also helped the careers of Eliza Dushku and Gabrielle Union.
Bring it On follows rival cheerleading teams the Clovers and Toros as they prepare for a big national competition. When the mostly-white Toros team learns that their former coach used to steal cheer routines from the African American and Latino/Hispanic Clovers team, tensions increase. The Toros must now try to win by completely starting over and developing their own routine. Bring it On spun quite a few direct-to-video sequels. However, none of them meet the standard of the original film, which has become a cult hit, especially among teen girls and young women. It's a movie that inspires girl power and encourages self-expression and mutual respect. It's one of the few movies at the time to honor cheerleading.
Almost Famous (September 13, 2000)
Billy Crudup, Patrick Fugit, Kate Hudson, and Frances McDormand star in Almost Famous. The film is a semi-biographical account of Cameron Crowe's experience as a teen writer working for Rolling Stone. Almost Famous became an instant favorite among music fans and movie critics. It received a Grammy, an Academy Award and a Golden Globe.
The beauty of Almost Famous is that it is a coming of age story that happens in the company of William (Patrick Fugit)'s musical heroes. The film depicts the highs and lows of the music industry and meeting your heroes. They often, unfortunately, show you that they're human and not flawless. Almost Famous has become a cult classic for music fans, Cameron Crowe movie fans, and those who just enjoy an entertaining story about growing up.
Meet The Parents (October 6, 2000)
Ben Stiller plays Greg Focker in Meet the Parents, a movie about a man meeting his girlfriend (Teri Polo)'s parents for the first time. Her parents include very strict, retired CIA counterintelligence officer Jack (Robert De Niro). Greg can't win in the eyes of Jack, though he really tries.
Meet the Parents produced two additional sequels, Meet the Fockers and Little Fockers. Ben Stiller and Robert De Niro became an unlikely comedic pair in this movie. The two play off each other well. Prior to Meet the Parents, De Niro had appeared in other comedy films like Analyze This and The Adventures of Rocky and Bullwinkle, but the film really helped people take him more serious as a comic presence.
How The Grinch Stole Christmas (November 17, 2000)
Jim Carrey stars in Ron Howard's reimagining of Dr. Seuss's beloved tale. How the Grinch Stole Christmas is about a Grinch green creature who hates Christmas. He hates it so much and the people of Whoville so much that he decides to ruin Christmas for them.
Upon its release, How the Grinch Stole Christmas received pretty harsh reviews from critics. However, over time, people have come to appreciate Jim Carrey's wacky and wonderful version of the Grinch. It's now become one of the Christmas classics that people watch yearly.
Unbreakable (November 22, 2000)
M. Night Shyamalan directs Unbreakable, a movie about a man named David Dunn (Bruce Willis) who discovers he has superhuman abilities. He uses his new skills to fight crime. Samuel L. Jackson, Robin Wright, and Spencer Treat Clark also star in this film.
Unbreakable is a superhero origin film that inspired two sequels Split and Glass. M. Night Shyamalan's films often divide public opinion, but all can admire his unique and bold perspective. Even if he doesn't always succeed, he takes chances that many other filmmakers would be too afraid to try. Unbreakable is one of these examples. Fans of Unbreakable really enjoy the film for its homage to comic book movies, and those who don't like it usually feels it didn't match up to the hype or Shyamalan's other work. Either way, Unbreakable is one of the defining works of the director's career.
Cast Away (December 22, 2000)
Basically, Tom Hanks delivers a one-man show performance in Cast Away. Most of the film revolves around him alone on an island with his only friend being a volleyball called Wilson. Cast Away received positive reviews and Tom Hanks earned another Academy Award nomination for the movie.
Cast Away is an enthralling film because it's a survivalist tale. The audience doesn't know if Tom Hanks' character will be able to survive on his own or maintain his sanity. It's a film that allows you to take the journey with the character. You feel every triumph and failure along with Chuck (Tom Hanks). Cast Away made an impression on the film world for its quiet, meditative approach to life and the human spirit.
A few other great films turning 20 this year are Traffic, Crouching Tiger Hidden Dragon, Requiem to a Dream, Memento, O Brother Where Art Thou?, Amores Perros, and Billy Elliot.