Daisy Ridley Explains Why The Rise Of Skywalker Backlash Was 'Upsetting'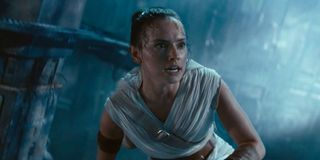 When Star Wars: The Rise of Skywalker hit theaters last December, it was pretty hard to ignore the backlash it received. Even the film's cast and crew couldn't escape it. While some seem to have brushed it off, Daisy Ridley has admitted that the negative reaction from fans left her feeling upset.
Truth be told, it can't be easy for your big break to be a lead role in one of the biggest movie franchises of all time. Over the past few years, Daisy Ridley has ridden the Star Wars wave admirably -- especially since her character, Rey, wasn't exactly immune to backlash from the beginning. But the actress recently revealed that the fervor surrounding the controversial finale to the Skywalker Saga was shocking to her (via DragCast):
Fans on social media were not shy about airing their Rise of Skywalker-related grievances, ranging from Rose to Reylo and everything in between. Though each of the films in this most recent trilogy experienced a wave of fan backlash, it seems like the most recent round seems to have hurt Daisy Ridley the most. And she admits that while she personally doesn't understand why fans get so loud on the internet, she does get that it's just the reality these days -- one she'll have to get used to:
Daisy Ridley is one of many Star Wars cast members that have responded to fans' frustrations over the past few months. While Kelly Marie Tran and Richard E. Grant had diplomatic responses, John Boyega took a more direct approach, and did a bit of his own trolling. It's good to see that Daisy Ridley is willing to be honest about how the backlash has affected her -- and also trying to find the bright side in spite of it all.
If you still haven't seen Star Wars: The Rise of Skywalker and want to check it out for yourself, it's now available on Digital HD, DVD, Blu-ray, and 4K Ultra HD.
Your Daily Blend of Entertainment News
Your Daily Blend of Entertainment News
Thank you for signing up to CinemaBlend. You will receive a verification email shortly.
There was a problem. Please refresh the page and try again.