How Prince Harry Helped Meghan Markle With Disney+'s Elephant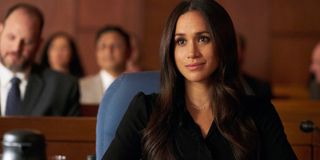 Meghan Markle's voiceover work for the documentary Elephant drew a lot of attention, and speculation that she'd gotten the role thanks to her husband's hustling. Though the rumor mill was ultimately wrong, it does appear as though Prince Harry helped his wife through her big narratorial debut in an unexpected way.
When word first got out that Meghan Markle would be narrating Elephant, eagle-eyed fans started to speculate that Prince Harry had helped her nab the gig at an event. An old video of the Duke chatting with Bob Iger at The Lion King premiere started making the rounds on Twitter, and fans began to fill in the blanks. The assumption turned out to be false, because Meghan Markle had already been in talks to narrate the Disneynature documentary. But that doesn't mean her husband didn't offer her any support during her process of returning to work.
It's her first big post-Suits role, and maybe more importantly, the first Hollywood gig she has had since she became a Duchess and then "stepped back" as a senior royal. (Okay, yeah, it's been a busy few years for her). In other words, plenty of people were intrigued to see what she brought to Elephant.
When the documentary hit Disney+, fans on social media were quick to praise Meghan Markle's performance, noting that she seemed perfectly suited for the narration. Elephant's director, Mark Linfield and producer, Vanessa Berlowitz, have now revealed some behind-the-scenes details about how Meghan Markle's performance came to be. The pair told ET that Meghan recorded her narration in total secrecy in London last fall. According to Mark Linfield though, her husband, Prince Harry, was in attendance:
Vanessa Berlowitz was quick to chime in and clarify that it's not that Prince Harry was being a backseat director, he was just chiming in when his expertise was warranted:
You hav to appreciate a husband who's willing to back his wife up. While it's unclear what Meghan Markle's next career steps will be, she is now better positioned to take on more roles in the coming weeks and months if she chooses. She and Prince Harry recently relocated from Canada to Los Angeles, where she lived before moving across the pond.
There's also no way to know whether she'll continue her partnership with Disneynature. They've already released several documentaries on the Disney+ streaming platform, and there could be more in the future. Or she could keep her relationship with Disney going -- she is, after all, uniquely positioned to really understand the complexities of living happily ever after.
If you haven't already, you can stream Elephant now on Disney+.
Your Daily Blend of Entertainment News
Your Daily Blend of Entertainment News
Thank you for signing up to CinemaBlend. You will receive a verification email shortly.
There was a problem. Please refresh the page and try again.