The Willoughbys Voice Cast: Who's Voicing The Netflix Movie's Characters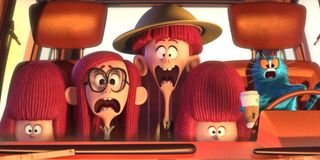 CinemaBlend is partnering with PIA VPN to bring you fresh content to stay in and stream with each day. We're also offering a special 76% discounted rate for a limited time only. You can sign up for the package with PIA here.
Have you ever watched an animated movie and found yourself thinking, "Gee, that voice sounds familiar?" You're not alone. While one of the keys to great voice acting is getting the audience immersed in the animated creation in front of them, there will always be that nagging feeling where you can place the voice from someone in something but it's slipping your mind. That'll probably be the case while you watch Netflix's new animated movie, The Willoughbys. The CG-animated family film has a great cast list of voice actors, from SNL veterans to hard-working voice talents (or both!). If you were wondering who played who, we're here to help! Here are the actors who lent their voice to The Willoughbys and what you might recognize them from.
Will Forte - Tim Willoughby
As Tim Willoughby, the eldest of the Willoughby children (and the most rational), Will Forte provides another voice-only performance in Netflix's The Willoughbys. A talented Emmy-nominated actor-writer best known for Saturday Night Live, MacGruber, Nebraska, and The Last Man on Earth, Forte has also forged a career in voice acting — most notably in recent years. His voice can be heard in movies and shows like Clone High, The LEGO Movie 1 & 2, The Life & Times of Tim, American Dad, Gravity Falls, Allen Gregory, Cloudy with a Chance of Meatballs, My Life as a Zucchini, The Simpsons, Aqua Teen Hunger Force, and Bob's Burgers, to name a few. He'll also soon voice Shaggy in the new animated movie Scoob!, and he'll play a voice part in the upcoming series, The Great North.
Martin Short - Mr. Willoughby
As Mr. Willoughby, the neglectful patriarch of the Willoughby family, Martin Short adds another voice-only role to his ever-growing resume with Netflix's The Willoughbys. The Tony-winning comedy veteran of the stage and screen has a hundred-plus credits to his name, such as Three Amigos!, SCTV, SNL, Father of the Bride, Mars Attacks!, and Inherent Vice, to name a mere few, as well his multiple appearances as Jiminy Glick. But Short's voice credits include (and certainly aren't limited to) The Cat In The Hat Knows A Lot About That, Treasure Planet, Jimmy Neutron: Boy Genius, The Prince of Egypt, The Pebble and the Penguin, Hoodwinked Too!: Hood vs. Evil, We're Back: A Dinosaur's Story, Legends of Oz: Dorothy's Return, The Spiderwick Chronicles, Frankenweenie, Madagascar 3: Europe's Most Wanted, and, most recently, 2019's The Addams Family.
Alessia Cara - Jane Willoughby
As Jane Willoughby, the fun-loving middle child of the Willoughby family, Alessia Cara plays one of the main roles in Netflix's The Willoughbys. An accomplished musician, this new animated movie serves as her introduction to the world of acting. If you recognize her voice, it's almost certainly from her singing, as she has only acted professionally in music videos prior to this new movie. As a musician, Cara has been heard in movies like After and Moana, as well as in shows like Grey's Anatomy, Saturday Night Live, Law & Order: Special Victims Unit, and more. The Canadian singer-songwriter has been nominated for four Grammys and she won one in 2018. She's known for her singles like "Here," "Scars to Your Beautiful," "Stay," "Growing Pains," "Querer Mejor,"and "Trust My Lonely."
Jane Krakowski - Mrs. Willoughby
As Mrs. Willoughby, the neglectful matriarch of the Willoughby family, Jane Krakowski gives another voice-only performance in The Willoughbys. While she is best known for her television work, notably 30 Rock, Ally McBeal, and Unbreakable Kimmy Schmidt, as well as roles in Go, National Lampoon's Vacation, and The Flintstones in Viva Rock Vegas, Krakowski has also amassed several animated movies and shows on her resume, including Ice Age, Open Season 1 & 2, The Simpsons, American Dad, Robot Chicken, Sofia the First, BoJack Horseman, Tangled: The Animated Series, and Henchmen.
Ricky Gervais - The Cat
As the voice of The Cat, a talking blue tabby who also narrates the movie, Ricky Gervais provides another voice-only performance. The actor-writer-director-comedian is known for his work in front and behind the camera, but he has lent his voice to The Simpsons, Grand Theft Auto 4, The Little Prince, Scooby-Doo and Guess Who?, Spy Kids 4D: All the Time in the World, and more. Gervais also served as a narrator on an episode of SpongeBob SquarePants and he could be heard in the HBO animated series, The Ricky Gervais Show. But Gervais is more commonly known as the star, co-director, co-writer, and co-creator of The Office U.K., as well as Extras, Life's Too Short, Derek, and, most recently, After Life. He also starred in Ghost Town, Muppets Most Wanted, and the Night at the Museum movies and served as a regular Golden Globes host.
Maya Rudolph - Nanny
As the voice of Nanny, the eccentric babysitter tasked with watching over the Willoughby children, Maya Rudolph provides a lively presence to Netflix's animated film. A veteran of Saturday Night Live and known for her performances in Bridesmaids, Away We Go, The Good Place, and more, Rudolph has become an accomplished voice actress over the years, lending her talents to several animated movies and TV shows, including (but not limited to), Big Mouth, The Angry Birds Movie 1 & 2, Shrek the Third, Big Hero 6, My Entire High School Sinking Into the Sea, The Emoji Movie, The Nut Job 1 & 2, Bless the Harts, Big Hero 6: The Series, Family Guy, Strange Magic, and more.
Terry Crews - Commander Melanoff
As Commander Melanoff, a joyful owner of a candy factory, Terry Crews provides a lively presence in Netflix's The Willoughbys. A former professional football player-turned-actor/television personality, Crews is best known for his roles in White Chicks, Idiocracy, The Expendables movies, Brooklyn Nine-Nine, and Everybody Hates Chris. He's also known as the host of America's Got Talent, and he previously hosted Who Wants to Be a Millionaire? He is well-known for his popular Old Spice commercials. As a voice actor, Crews can be heard in Craig of the Creek, Saints Row IV, Cloudy with a Chance of Meatballs 2, Hulk and the Agents of S.H.I.E.L.D., Ultimate Spider-Man, Regular Show, and VeggieTales: Celery Night Fever.
Seán Cullen - The Barnabys
As the Barnabys, the youngest twin boy siblings of the Willoughby family, Seán Cullen plays a dual role in Netflix's The Willoughbys. An established actor, comedian, impersonator, author, screenwriter, and voice artist, Cullen is easily the most experience voice actor from the cast of The Willoughbys, though he's better known in Canada than in the United States. He's known there for shows like Best Ed, Little Monsters, Almost Naked Animals, and Cloudy with a Chance of Meatballs, but he's done voice work for several other movies and TV shows. He's also seen in The Love Guru and The Seán Cullen Show, as the name of the latter would suggest.
Did you enjoy Netflix's The Willoughbys? Who gave your favorite performance? Let us know in the comment section below.
Will is an entertainment writer based in Pittsburgh, PA. His writing can also be found in The Playlist, Cut Print Film, We Got This Covered, The Young Folks, Slate and other outlets. He also co-hosts the weekly film/TV podcast Cinemaholics with Jon Negroni and he likes to think he's a professional Garfield enthusiast.
Your Daily Blend of Entertainment News
Thank you for signing up to CinemaBlend. You will receive a verification email shortly.
There was a problem. Please refresh the page and try again.