How Ricky Gervais Did Hosting The Golden Globes For The Fifth (And Final?) Time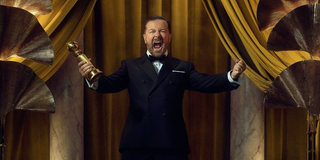 Coming into the 77th annual Golden Globes, Ricky Gervais had already hosted four different ceremonies, with each having their highs and lows. The UK comedian and TV mainstay has made it as clear as a 4K broadcast that the 2020 Globes will be the last time he hosts the entertainment celebration, though that remains to be seen with time. For now, we're focusing on how Gervais did while hosting the latest show.
Ricky Gervais' Opening
From the opening moments, Ricky Gervais made it clear that he wasn't going to spare any barbed jabs from hitting their targets. That said, he also proved true his initial claims that he wouldn't necessarily aim for individuals, but rather the corporations that make up the Hollywood machine. Which, in turn, allowed for some incredibly awkward moments, as well as some pretty poignant comments. In as much as a Golden Globe comment – made with a pint of beer in hand – can be considered poignant.
In the first place, viewers got to watch Ricky Gervais say multiple times that this was his last time hosting, and that he didn't care anymore, just as NBC didn't by bringing him back five different times. Gervais is nothing if not self-deprecating, after all. He even commented on Kevin Hart losing out on the Oscar-hosting gig over Twitter comments, knowing that he himself had just recently been in the midst of a social-media fracas over a satire-dripping Twitter back-and-forth he had with a parody account.
As for some of the more risqué jokes he told, Gervais made cracks about his license plate being made by Felicity Huffman, and that her daughter must really be embarrassed...for having a dad who was in Wild Hogs. In talking about his Netflix comedy After Life, which is heading for Season 2, Gervais dropped the "spoiler" that his character hadn't killed himself after Season 2, just like Jeffrey Epstein.
Arguably the most ribald moment, though, came when even he hesitated before dropping the line that Dame Judi Dench's Cats joy was partially based on her spending parts of her days licking her own vagina. Meee-owww.
One of my favorite gags, which was "adult" in the right way, was about what Meryl Streep would do in a hypothetical Sophie's Choice sequel.
All in all, the entire opening hinged on Ricky Gervais' bemusedly put-upon gags about Apple sweat shops and ISIS streaming services, and so much of Gervais' input for the night came via his opening monologue, so it was good that he ran the gamut from goofy to offensive to bizarre.
The Rest of The Night
After that opening montage, Ricky Gervais only came out to announce presenters a handful of times, and each appearance was increasingly more non-plussed. Not that there was a lot of time for him to come out and riff on things, since this year's producers clearly made an effort to give winners time for acceptance speeches without playing them off. (Except for Best Actor winner Joaquin Phoenix, anyway.)
For his first return, he joked about having a clip to show from Netflix's The Irishman (opens in new tab) that was 88 minutes long. That got a laugh from Martin Scorsese's table. (And was possibly a fun reference to Al Pacino starring in the movie 88 Minutes.) He also referred to the HFPA as a bunch of vegetables, and took several swipes at Tom Hooper's Cats.
Two of Ricky Gervais' most awkward moments came during his later two appearances. Ahead of introducing the presenters for Best Director, he commented about how there weren't any females nominated, and how he'd talked to the HFPA and "fixed" the situation by making it so that women didn't get jobs as directors anymore, like the old days. Satirical, but not a great landing.
It was even more groan-worthy later Gervaus dropped this line about Birdbox when introducing Sandra Bullock:
Somewhat thankfully, perhaps, his final words of the night were telling everyone to donate to Australia (for its tragic wildfires), and to get drunk, do some drugs, and fuck off. I mean, it was right on brand for Ricky Gervais, obviously.
Final Analysis
All in all, Ricky Gervais felt a little too careless rather than care-free this time around, possibly because his appearances were truncated as the show went on. Which, to be sure, is how awards shows normally handle things. But because Gervais was likely going into this telecast knowing how many people were waiting for something to attack, it's possible he just chose to double-down on the disdain as the night went on.
I could have done with more of his infectious giggling, and more proof that Ricky Gervais himself was having a good time. In the end, he kind of nailed it by pointing out the ludicrousness of it all, which even snowballs down to reactions like this. Am I saying that, in the end, he was actually more poignant than he was amusing? I guess it depends on how many pints I've had.
Still, would I like to see him hosting again in the future? Of course, especially compared to the thought of not having a host at all. But I'm perfectly fine with bringing Tina Fey and Amy Poehler back, or trying out a bazillion other celebs.
Although, admittedly, fewer host moments means long montages celebrating Tom Hanks' career, which ain't half bad.
Check out all the winners (and otherwise) for the 77th annual Golden Globes, and if you need another British comedian to listen to for a while, go watch Fleabag! Be sure to keep checking our winter and spring TV schedule to note the premieres for many shows that will likely get nods in next year's Golden Globe awards.
Assistant Managing Editor
Nick is a Cajun Country native, and is often asked why he doesn't sound like that's the case. His love for his wife and daughters is almost equaled by his love of gasp-for-breath laughter and gasp-for-breath horror. A lifetime spent in the vicinity of a television screen led to his current dream job, as well as his knowledge of too many TV themes and ad jingles.
Your Daily Blend of Entertainment News
Thank you for signing up to CinemaBlend. You will receive a verification email shortly.
There was a problem. Please refresh the page and try again.