The Most Epic John Wick Fight Scenes So Far, Ranked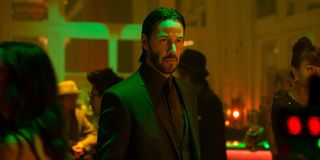 CinemaBlend is partnering with PIA VPN to bring you fresh content to stay in and stream with each day. We're also offering a special 76% discounted rate for a limited time only. You can sign up for the package with PIA here.
John Wick began as an underdog project. In this day and age it is extremely rare to see the launch of an action franchise based on an original concept – but that's exactly what has been built in the years since the first film was released. The series has delivered not only an amazing new iconic character for star Keanu Reeves, but also some of the best fight scenes in modern cinema. With touches of the former coming into play, it's the latter that we're here to talk about today.
Over the course of three films so far, the John Wick movies have delivered a series of bone-crunching and impressive action sequences – but how do they all stack up against each other? After rewatching John Wick, John Wick: Chapter 2, and John Wick: Chapter 3 – Parabellum, we've done that calculus and come up with a ranking of the 10 best:
10. John Wick: Chapter 3 – Parabellum – Motorcycle Chase
The John Wick franchise has delivered many iconic images to the landscape of modern action cinema, but there are few as cool as the shot of a team of black-clad bikers whipping out samurai swords. It's perhaps not the most grounded of sequences in this series, as you question how the eponymous hero could do so much ass-kicking and still drive unimpeded, but it's executed beautifully.
9. John Wick: Chapter 2 – Subway Fun With Cassian
The fight in Italy between John Wick and Common's Cassian in John Wick: Chapter 2 very nearly made this list, as the bit where they fall down the stairs is priceless by itself, but it isn't quite as good as their fight when the protagonist arrives back in New York. The pair exchanging silenced pistol shots when entering the station is peak-level John Wick comedy, and their knife battle in the subway is brutal and brilliantly paced – capped with the awesome line "The knife is in your aorta. You pull it out, you will bleed and you will die. Consider this a professional courtesy."
8. John Wick: Chapter 3 – Parabellum – Horse vs. Motorcycles
As will be reflected throughout this list, it's hard to get over just how badass the first act of John Wick: Chapter 3 – Parabellum is, and that very much includes its final bit of action where John is trying to escape pursuers on horseback. Baba Yaga shows that he doesn't need a motor to outpace any opponent, and he's majestic as he navigates his equine ride while gunning down would-be assassins.
7. John Wick: Chapter 3 – Parabellum – Not-So-Stable Condition
If we have one note to offer the future of the John Wick franchise, it's that future sequels should try and get John around animals more often. Sure, his love of dogs is made clear, but what he is able to accomplish after being chased into a stable in the beginning of John Wick: Chapter 3 – Parabellum is amazing – as he kills not one, but two of his pursuers by getting horses to kick them to death.
6. John Wick – Vehicular Homicide Parade
In the third act of John Wick, the eponymous character makes Dominic Toretto look barely qualified to operate a Little Tikes Cozy Coupe. John proves himself as deadly as ever when he is behind the wheel hunting down Viggo and his men, whether he's driving other cars off the road, or executing hairpin turns while firing a gun out his window, and every moment of it is pure badass.
5. John Wick: Chapter 2 – Escape Through The Catacombs
The John Wick movies have not yet taken the time to explore what John's early life was like, but given the preparedness demonstrated in John Wick: Chapter 2's catacombs chase, it would surprise few to learn that he was at one point a Boy Scout. On orders, Ares (Ruby Rose) and a group of gunmen are sent to kill John as he escapes following the assassination of Gianna D'Antonio (Claudia Gerini), but they don't count on the hero being 100% ready for them, having stored guns all over the place to aid his exit.
4. John Wick: Chapter 3 – Parabellum – Escaping Berrada's Fortress
In the run-up to the release of John Wick: Chapter 3 – Parabellum, no sequence received more hype than John Wick teaming up with Halle Berry's Sophia – and the movie didn't disappoint. The characters face a flood of killers while trying to get out of a fortress in Casablanca, and with the help of some canine pals it's a vicious, brutal, and badass episode that is easily one of the most memorable sequences in the franchise thus far.
3. John Wick: Chapter 2 – Reflections On The Soul
A hall of mirrors makes for a great setting for an action sequence, and while it would be a touch goofy to stick John Wick in a funhouse at a carnival, director Chad Stahelski and writer Derek Kolstad found a perfect way to execute the concept with the Reflections On The Soul exhibit in John Wick: Chapter 2. Not only is the action endlessly dazzling and exciting, but the cinematography is straight-up beautiful, and accentuates the impressiveness of every filmmaking technique exercised.
2. John Wick – Red Circle Club Assault
It was really with the Red Circle Club Assault in John Wick that audiences started to recognize the movie as being something special. Moving stealthily before loudly starting to make his presence known, John's journey through the basement sauna up through the upstairs dance club is an epic one, and while it may end in a defeat for the hero, with Alfie Allen's Iosef Tarasov ultimately escaping, it's a brilliant sequence, and its significance in the history of the franchise boosts its ranking here.
1. John Wick: Chapter 3 – Parabellum – Weapon Museum Battle
As incredible as all of the aforementioned sequences are, it's actually hard to imagine the John Wick franchise ever being able to eclipse the remarkableness that is the second fight scene in John Wick: Chapter 3 – Parabellum, and finds the titular assassin on the run and in a weapons museum. Every second of this sequence is perfection, from its opening (where John constructs a custom gun to take the first shot of the film), to its middle (where John and his opponents grab and throw the various knives surrounding them in display cases), to its finale (where John throws an axe into the head of a dude clinging to life). Modern action cinema doesn't get much better.
How would you rank the best of the best John Wick fight scenes we've seen so far? Hit the comments section with your own Top 10s, and stay tuned here on CinemaBlend for all of the latest news and updates about the future of this badass franchise.
This poll is no longer available.
Your Daily Blend of Entertainment News
Assistant Managing Editor
NJ native who calls LA home and lives in a Dreamatorium. A decade-plus CinemaBlend veteran who is endlessly enthusiastic about the career he's dreamt of since seventh grade.