Looks Like Guardians Of The Galaxy Vol. 3 Has Big Plans For One Character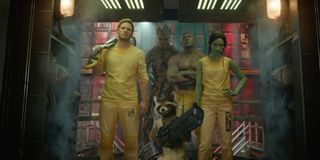 James Gunn gave the Marvel Cinematic Universe an eclectic group of characters in the form of the Guardians of the Galaxy, and their franchise has quickly become one of the MCU's most popular. Gunn has also surrounded them with a firm supporting cast, whose roles have grown with time. This was certainly the case for Yondu Udonta. Now, it appears another character is going to get even more time to shine in the upcoming threequel.
James Gunn, who's known for regularly interacting with his fans, participated in a Q&A on Instagram. During the chat, the filmmaker was asked if Kraglin, who's played by his brother Sean, would have a bigger role in Guardians of the Galaxy Vol. 3. Gunn then responded with a simple "yeah."
Well, fans of Kraglin are sure to be pleased to know that Yondu's Ravager first mate will have a bigger part to play in the Guardians' next big-screen outing. This also echos past comments from James Gunn that indicated his intention to give Kraglin more screen time.
Since making his debut in the original Guardians film, Sean Gunn has played two key roles in the MCU. On top of playing Kraglin, he also serves as the on-set stand-in for Rocket Raccoon, which he's done for all of the character's appearances. So in a way, providing Kraglin with more to do would be a way of giving Gunn his just due.
The last time audiences saw Kraglin he was mourning (and celebrating) Yondu, who sacrificed himself during the climax of Guardians of the Galaxy Vol. 2. A post-credits scene also revealed that his former captain bequeathed his deadly fin and Yaka arrow to him. Unfortunately, Kraglin hadn't quite gotten the hang of using the two weapons.
We later learned that Kraglin was originally set to appear in Avengers: Endgame, as he would join Earth's Mightiest Heroes, and his fellow Ravagers, in taking on Thanos' army in the third act. Sean Gunn has even revealed that he shot an air battle sequence, with the hero adeptly wielding his new tools. But ultimately, Gunn says the scene was cut for narrative reasons, which he understood.
Kraglin's Endgame absence may be a letdown for some, but it could still allude to his potential role in Guardians 3. As Yondu's right-hand man and the bearer of his weapons, Kraglin may now be the leader of his crew of Ravagers. This new role alone could definitely give him a bigger presence moving forward.
Not much is known about the capper to James Gunn's trilogy right now, and that'll probably be the case for some time. Yet fans can savor the fact that their favorite galactic heroes will cross paths with Kraglin at least one more time.
Your Daily Blend of Entertainment News
Covering superheroes, sci-fi, comedy, and almost anything else in film and TV. I eat more pizza than the Teenage Mutant Ninja Turtles.
Your Daily Blend of Entertainment News
Thank you for signing up to CinemaBlend. You will receive a verification email shortly.
There was a problem. Please refresh the page and try again.