Wonder Woman And Captain Marvel Face Off In Epic Fan Art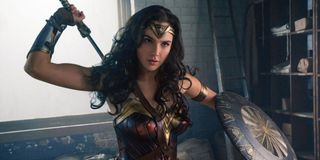 Both the Marvel and DC Universes are filled with incredibly powerful characters, who are viewed as gods by some. Among those beings are Wonder Woman and Captain Marvel. For years, comic book fans have wanted to see the two go head to head, and that's only increased since the two have made their big-screen debuts. Although there's a very small chance we'll ever see the battle play out in a film, a new piece of fan art has given us a good idea of how it would play out.
Fan-favorite visual artist BossLogic dropped a new piece of artwork that depicts Wonder Wonder Woman and Captain Marvel engaging in combat. While the cosmic-powered Captain Marvel appears to be charging with all of her might, Wonder Woman holds her off with her shield. Check out the epic illustration for yourself:
To craft the image of the silhouetted heroes, BossLogic seems to have used the cinematic versions of the characters as inspiration. The Wonder Woman portion, in particular, seem to take heavy inspiration from the "No Man's Land" scene from the 2017 film.
Given his track record, we really shouldn't be surprised when BossLogic drops impressive artwork, but this piece is truly a sight to behold. It's not too over the top, but it gives fans a sense of just how powerful both Diana of Themyscira and Carol Danvers are.
Their powers make them among the strongest beings in their respective comic book and cinematic franchises, which makes it clear why fans would want to see them do battle. Unfortunately, this can sometimes lead to a negative debate regarding which one is the stronger of the two.
Thankfully, this rivalry hasn't seeped into the walls of Marvel and DC, as the two corporate entities don't have any animosity for one another. Marvel Studios President Kevin Feige, who's a longtime friend of DC's Geoff Johns, has made it clear that he's a fan of all superhero productions. Shazam! producer Peter Safran also shot down the idea of any kind of competition between companies.
These feelings also extend to Wonder Woman and Captain Marvel themselves, Gal Gadot and Brie Larson. Larson is a lifelong fan of Wonder Woman, and it was her love of the character that helped inform her performance as Carol Danvers. Gadot has also been supportive of Captain Marvel and Larson and, at this year's Academy Awards ceremony, the two recreated a sketch of their two characters.
If I'm being honest, the comparisons between Diana Prince and Carol Danvers aren't going to stop anytime soon, and many will still be clamoring to see them meet up and come to blows on the big-screen. It's wouldn't be entirely impossible for that to actually happen but, if it doesn't, fans still have this artwork to slightly satisfy their desire.
Your Daily Blend of Entertainment News
Covering superheroes, sci-fi, comedy, and almost anything else in film and TV. I eat more pizza than the Teenage Mutant Ninja Turtles.