Fan Art Already Predicted What Rosario Dawson Could Look Like As Ahsoka Tano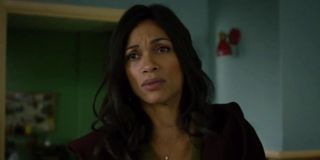 Fans rejoiced when it was reported that Rosario Dawson would be joining the second season of The Mandalorian as fan favorite Jedi Ahsoka Tano. Despite the casting have just been allegedly revealed, Dawson has been lobbying for the role for a while. This led fans to sketch out what she could like in the role. Digital artist BossLogic was one of those people, and his portrait still stands out.
The Australian artist, known for his renderings of fan-favorite film and TV properties, originally created an image of Rosario Dawson as Ahsoka Tano a few years ago. This came shortly after the actress originally expressed interest in the role. You can check out the cool image below:
BossLogic has created some pretty impressive pieces before, but this particular reimagining really gets one excited about seeing Dawson on screen. Seeing the actress' face on Tano's body may be a little jarring at first glance. Still, it gives fans a good idea of how she could look on The Mandalorian.
When it comes to her actual appearance on the show, it's unclear as to how showrunner Jon Favreau and his team will handle things. Dawson could very well be transformed into Ahsoka using only makeup and prosthetics. Conversely, The Mandalorian's creative team may opt to use a combination of digital and practical effects.
Ahsoka Tano made his first entry into the galaxy far, far way in the animated 2008 film Star Wars: The Clone Wars and became a regular on the animated series that followed. Although she wasn't well received in the beginning, Ahsoka has become an endearing part of Star Wars lore, having also appeared in the animated series Star Wars Rebels.
The Mandalorian will mark the character's first live-action appearance in the universe. With the role, Rosario Dawson will take over for Ashley Eckstein, who has voiced the character in all of her appearances thus far.
As mentioned, Dawson first discussed the possibility of taking the role in 2017, but she seemingly reiterated her desire for the part just a few months ago. With The Mandalorian Season 2 having apparently wrapped, Dawson would theoretically be finished shooting her scenes. So could her recent enthusiasm have been a clever way to deflect or a ploy by Disney to get fans used to the idea of her as Ahsoka?
It's important to note that neither Disney nor Lucasfilm have formally announced that Rosario Dawson has joined the cast of The Mandalorian. As a result, it's currently unclear as to how she could factor into the new season. This writer would it has something to do with a certain pointy-eared baby.
We won't get to see Dawson as Ahsoka Tano until this fall at the earliest, but you can watch the young Jedi on the latest episode of Star Wars: The Clone Wars, which is currently streaming on Disney+.
Covering superheroes, sci-fi, comedy, and almost anything else in film and TV. I eat more pizza than the Teenage Mutant Ninja Turtles.
Your Daily Blend of Entertainment News
Thank you for signing up to CinemaBlend. You will receive a verification email shortly.
There was a problem. Please refresh the page and try again.