Dark Rey Gets Kylo Ren's Helmet In Star Wars: The Rise Of Skywalker Concept Art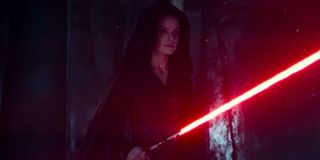 Star Wars: The Rise of Skywalker treated fans to a number of fun surprises, but one of the more shocking ones was the inclusion of a dark version of Rey. Although the character was only a vision of Rey's fears for the future, the character's presence has remained in fans' memories. This is mostly due to her creepy appearance, which we've now learned could have included a key piece of Kylo Ren's armor.
Adam Brockbank served as a concept artist on Star Wars: The Rise of Skywalker and has recently been treating fans to some behind-the-scenes tidbits. The latest image he shared to his Instagram account features an early look at Dark Rey. However, instead of a hood, this version wears Kylo Ren's helmet. Take a look at the creepy (and epic) picture down below:
Just when you thought Dark Rey couldn't get any scarier, Adam Brockbank manages to surpass expectations. This actually isn't the first time the artist has shared concept art involving Dark Rey. In a prior post, he shared another early design that included the cloak that was ultimately seen in the film.
Coincidentally, Brockbank isn't the only artist who's been sharing early sketches from the production. Veteran Star Wars artist Luke D. Fisher also shared an alternate design for Kylo Ren's signature head gear.
Dark Rey's final look in The Rise of Skywalker was already cool enough, but giving her Kylo Ren's helmet would have been a nice touch. In addition to adding something distinct to the look, it would have also been a way to symbolically mark the connection between Rey and Ren.
Rey struggled with her link to the Dark Side in Star Wars: The Rise of Skywalker, and this only increased when she discovered that her grandfather was none other than Emperor Palpatine. But in the end, it was Rey's link to the Jedi of the past that gave her the strength to end her grandfather's reign of terror once and for all. She also managed to help Kylo Ren earn redemption and ultimately, reclaim his identity as Ben Solo.
Still, one can't help but wonder what would've happened had Rey chosen to give in to her dark nature and join the Sith. Would she have allowed her grandfather to consume and use her as his vessel? Or would she have killed him and chosen to take the throne herself? Both scenarios sound extreme but could've been interesting to see play out on the big screen.
In the end, it's best that Rey didn't give into the Dark Side of the Force and take on this look. But the idea of seeing someone in a Kylo Ren helmet be revealed as Dark Rey would have been an even bigger shocker for fans.
Star Wars: The Rise of Skywalker is now available to stream on Digital HD, DVD, Blu-ray and 4K Ultra HD.
Your Daily Blend of Entertainment News
Covering superheroes, sci-fi, comedy, and almost anything else in film and TV. I eat more pizza than the Teenage Mutant Ninja Turtles.
Your Daily Blend of Entertainment News
Thank you for signing up to CinemaBlend. You will receive a verification email shortly.
There was a problem. Please refresh the page and try again.