How Ryan Reynolds Feels About Disney Now Being In Control Of Deadpool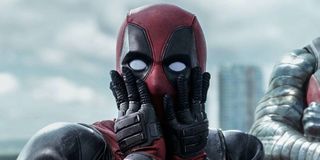 There's been a lot of uncertainty surrounding the future of Deadpool 3, and much of it has come because of Disney's merger with 21st Century Fox. Thus far, Ryan Reynolds has stayed pretty quiet about the whole endeavor, but now he's spoken up -- and it sounds like he's taking it all in stride.
Disney and Fox's merger was completed in 2019. While there was a lot more to it than just the acquisition of Fox's distribution rights for Marvel's Fantastic Four and X-Men, a lot of the attention has been surrounding them -- especially Deadpool. One downside of the merger has been that a lot of Fox's most anticipated projects, like Deadpool 3, have been hanging in limbo.
While we're still waiting to hear anything concrete about it, Ryan Reynolds recently revealed where he feels like he's at in the whole process. When asked what it's been like to transition from an outsider to an insider at Disney, he was very honest (via Games Radar):
Ryan Reynolds' comments to Games Radar seem to indicate that he has a great attitude about the situation - which is respectable since so much of it has been out of his hands, and we all know that he has a very personal stake in the Deadpool franchise. His optimism should also hopefully assuage some fans' concerns about the future of the series.
There are still a lot of unknowns, of course. His "if," in regards to Deadpool 3, means there's still the potential for heartbreak. However, the fact that he changed it to "when" bodes a bit better, even though this ultimately means we still have no idea when we'll get to see it -- or what it will look like. Though the film's writers have already assured fans that Deadpool 3 will continue the franchise's R-rated tradition, there has been some speculation that Disney taking hold of Deadpool could mean that future films would be watered down.
However, it sounds like Ryan Reynolds is still committed to getting Deadpool 3 off the ground with Marvel, and it will be really interesting to see how heavily Disney ends up influencing the finished product. As long as he feels it's a win, we can probably all remain optimistic, too.
Your Daily Blend of Entertainment News