Lego Batman Returns To Deliver A Hilarious and Informative Message About COVID-19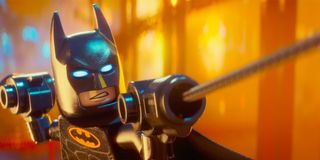 Unless you've been living on another planet for the last few weeks, you're probably well aware of what you need to do to help prevent the spread of COVID-19. The messaging around pandemic best practices has been widespread -- but it's mostly been targeted at adults. So DC and LEGO teamed up to create a hilarious, but seriously educational and kid-friendly, video starring LEGO Batman.
Fans of the LEGO Movie franchise will remember that LEGO Batman is basically like normal Batman but with an ego dialed up to eleven. His cockiness about everything from doing push-ups to battling enemies is a large part of what makes him one of the funniest LEGO Movie characters. And that's all on display in the short clip, which was shared on LEGO's Twitter account. Take a look at the incredibly on-brand PSA below:
Will Arnett returns to voice LEGO Batman, and he's joined (off-screen) by Ralph Fiennes' Alfred, who patiently attempts to keep the superhero on track while they discuss the coronavirus pandemic. At first, LEGO Batman is all bluster, offering to beat up the virus so that it can't hurt anyone. When Alfred tells him he can't fight it like that because it's, you know, invisible, LEGO Batman is at a bit of a loss.
Alfred then explains what COVID-19 is and why it's dangerous, while LEGO Batman occasionally throws in a couple of sardonic wisecracks. By the end of Alfred's COVID-19 101 lesson, LEGO Batman seems a little bit spooked:
But Alfred tells both him and anyone listening that it's normal to feel anxious and that talking to a trusted adult will help. (LEGO Batman finally finds a way to stay on message and offers up some helpful advice for viewers of all ages:
And of course, he manages to get in a bit of self-promotion before it's all said and done when offering some final words of wisdom:
The video feels like a perfect way to communicate the reality of this pandemic to a younger audience. It feels like it could have been lifted straight out of a LEGO Movie, and it also explains the situation in a way that is super easy for kids to understand. It offers a realistic view of what's happening while keeping in mind how scary it can be. It also serves as a great reminder of what an awesome character LEGO Batman is -- hopefully we'll eventually get to see him on our screens again, battling an enemy that isn't quite so invisible.
Your Daily Blend of Entertainment News
Thank you for signing up to CinemaBlend. You will receive a verification email shortly.
There was a problem. Please refresh the page and try again.