Why Val Kilmer Stopped Playing Batman After Forever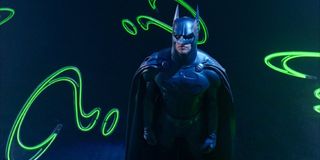 Following the release of Batman Returns in 1992, Michael Keaton decided to walk away from the cape and cowl because he didn't like the creative direction the third Batman film, a.k.a. Batman Forever, was headed. Val Kilmer of Top Gun and Tombstone fame was tapped as Keaton's successor, but Kilmer's tenure as DC Comics' Caped Crusader ended up being a one-and-done performance, with George Clooney replacing on for Batman & Robin.
25 years after Batman Forever's release, Val Kilmer has elaborated on why he didn't return as Batman. Past rumors and reports have alleged that Batman Forever was one of several cinematic projects where Kilmer caused problems, and director Joel Schumacher once described the actor as "psychotic" (though the filmmaker said last year that he thought Kilmer made for a "fabulous Batman"). Kilmer maintains that scheduling conflicts with The Saint factored into him not being part of Batman & Robin, but he also simply grew bored with the role of the Dark Knight.
In an interview with The New York Times, Val Kilmer recalled how one day when filming Batman Forever, he was about to take off the Batsuit when billionaire Warren Buffet visited the set with his grandkids, who wanted to see Batman. Obliging, Kilmer kept the Batsuit on, but apparently the kids didn't really want to talk to him, but try on the mask and ride in the Batmobile.
After that, Val Kilmer realized that it didn't matter who was wearing the costume. In his mind, Batman wasn't meant to be a "real guy," but rather anonymous so that anyone looking at the character can see themselves in him. As the actor put it:
In a way, Val Kilmer is correct, as no matter who plays Batman in movies, TV shows and video games, the superhero will always loom larger in the cultural zeitgeist than the actor. That being said, as with snowflakes, no two Batmans are alike. Okay, maybe that's too strong a statement, but there are certainly ways for each Batman actor to make their incarnation stand out from the others.
In Val Kilmer's case, his Batman/Bruce Wayne is more stoic than other incarnations, and Batman Forever also did a decent job of exploring the duality between the two personas. So it might've been interesting to see how Kilmer's iteration of the character could have evolved in another Batman movie, but alas, that's not the way the cards were dealt.
Released on June 16, 1995, Batman Forever saw Val Kilmer's Batman clashing with Tommy Lee Jones' Two-Face and Jim Carrey's Riddler, as well, as well as taking Chris O'Donnell's Dick Grayson, a.k.a. Robin, under his wing and getting romantically entangled with Nicole Kidman's Dr. Chase Meridian. The movie was met with mixed critical reception, but it collected over $336 million worldwide off a $100 million budget.
Still, even though Batman Forever isn't one of the most critically well-received Batman movies, at least it's no Batman & Robin. That flick was so horribly received that Warner Bros scrapped plans for a sequel, and we wouldn't see Batman on the big screen again until 2005's Batman Begins, a darker and more realistic take on the Batman mythos directed by Christopher Nolan. So in hindsight, Kilmer dodged a bullet by not going a second round as Batman.
Looking to the future, Robert Pattinson is the latest actor to play Batman in a theatrical setting, and we'll see how he does in the role when Matt Reeves' The Batman comes out on October 1, 2021. Be sure to also look through our handy guide detailing what other DC Comics movies are on the way.
Your Daily Blend of Entertainment News
Connoisseur of Marvel, DC, Star Wars, John Wick, MonsterVerse and Doctor Who lore. He's aware he looks like Harry Potter and Clark Kent.
Your Daily Blend of Entertainment News
Thank you for signing up to CinemaBlend. You will receive a verification email shortly.
There was a problem. Please refresh the page and try again.