Spider-Man Into The Spider-Verse Has A Sneaky Hotel Transylvania Easter Egg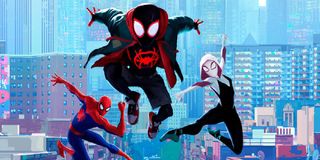 It's amazing what you can sneak into a knockdown, dragged-out action-adventure climax like the one we see in Spider-Man: Into the Spider-Verse. With the various Spider-People fighting Liev Schreiber's Wilson "Kingpin" Fisk in an explosion of colors and particles from different dimensions, you wouldn't be faulted for missing something that the animators at Sony snuck into the picture. As it turns out, one of those very things hidden in plain sight is a nod to Adam Sandler's Hotel Transylvania franchise.
During the recent watch party for Spider-Man: Into the Spider-Verse, producer Chris Miller shared a post on Twitter where the context of this particular easter egg happened to be described:
Included as an accent from the 1930s-themed dimension Nicolas Cage's Spider-Man Noir hails from, the train car from the Hotel Transylvania series is one of several variants seen in the subway train flying through the interdimensional rift being generated in Spider-Man: Into the Spider-Verse. Just as Miles Morales (Shameik Moore) and Kingpin start to fight one-on-one in the dimensional mess created by the particle accelerator our criminal friend has been obsessing over, Miles tries to ride said train off to press the button that'll end this science fiction nightmare.
But, of course, seeing as this is the final battle and all, Wilson Fisk yanks Miles into the train, and their fight continues. Not to long after being pulled into the train, the dimensional shift gives the train several different looks to its interior. One of them, as seen below, is a black-and-white old timey train car:
Of course, that's how things look in the Spider-Man: Into the Spider-Verse version of things. But if you were to put some color into the picture, and bring back some old world flourishes to the atmosphere, you'd have the original version of said train that came from the Hotel Transylvania series.
Just as Genndy Tartakovsky intended, we can show you what the original train car looks like, thanks to this snippet taken from Hotel Transylvania 3: Summer Vacation.
Admittedly, that's a pretty sneaky easter egg to throw into a Sony Animation Studios film. However, there's another, even more exciting reference snuck into the end of Spider-Man: Into the Spider-Verse. Also provided in a tweet by Chris Miller, included below, is a glimpse of a really familiar looking food device thrown into the debris being sucked into the closing dimensional rift:
So not only was a train car from Hotel Transylvania included in this mashup of Sony Animation Studios projects, but there was also a special touch of Lord and Miller fun from the past, thanks to the FLDSNDFR from Cloudy with a Chance of Meatballs. As if the list of pre-existing easter eggs wasn't exciting enough, we now have these two additional examples to add to the total laundry list of things to watch for every time we view Spider-Man: Into the Spider-Verse.
As the pair are also producing this fall's upcoming animated adventure Connected, there's no telling what sort of easter eggs will show up, both from Spider-Man: Into the Spider-Verse or any other source of pop culture joy all involved can think of. But with these sneaky surprises firmly in mind, we'll be keeping our eyes wide open once that film debuts.
Connected opens on October 23, while Spider-Man: Into the Spider-Verse is currently available on Digital HD, 4K UHD, Blu-ray and DVD; as well as through Netflix's streaming library. The sequel is set for release on October 7, 2022.
Senior Movies Contributor
CinemaBlend's James Bond (expert). Also versed in Large Scale Aggressors, time travel, and Guillermo del Toro. He fights for The User.
Your Daily Blend of Entertainment News
Thank you for signing up to CinemaBlend. You will receive a verification email shortly.
There was a problem. Please refresh the page and try again.