Why Chris Evans Can No Longer Wear Cable Knit Sweaters After Doing Knives Out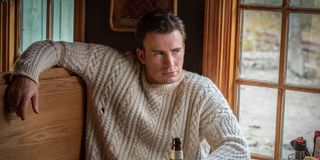 Chris Evans is probably one of the more self-aware celebrities, and that's served him well. He knows how to get in on a joke without ruining it and knows how to use social media to connect with fans in a way that's actually pretty meaningful. He is also totally aware of that whole Knives Out sweater thing -- and it's even influenced his decision to stop wearing cable knits, but not for the reason you might expect.
If you're one of the millions of people who've seen Knives Out since it hit movie theaters (ah, remember those?) in November 2019, a few things from the film probably stand out: Rian Johnson's whip-smart script, Ana de Armas' star-making performance, Benoit Blanc's confounding final revelation, and Chris Evans' life-changing, cream-colored cable knit sweater. His character, Ransom, wears it while he's helping Marta escape the Thrombey-Drysdale family, and it became a sartorial sensation in the weeks after the movie's release.
Similar sweaters began to see a huge increase in sales. In early December, a #KnivesOut challenge inspired a cavalcade of Twitter posts that allowed fans to show their own Ransom-esque sweaters - including Rian Johnson. Knives Out's official Twitter account even changed its name to "Chris Evans' Sweater Stan Account."
Why all the fuss? We could pretend that it's because it's a masterful costuming choice, one that makes Ransom seem softer and more approachable in a moment when both Marta, and we, need to trust that he's not out to get her. Or it could be because it's just a great sweater. It looks extra great on Chris Evans. If we're being honest, it looks like it was hand-crafted to fit for him and him alone to wear. Sometimes it's just not that deep.
Regardless of the reason for the hubbub, Chris Evans embraced the meme-ification of his Knives Out attire at first. On Christmas Day, he shared a photo of his dog Dodger wearing his own cable knit sweater, an obvious nod to his viral wardrobe moment. After that, however, he mostly stayed mum on the matter - and it looks like that was intentional, as he recently admitted that he's strayed away from wearing cable knit sweaters since Knives Out:
One can have mixed feelings after hearing Evans' comments on The Tonight Show Starring Jimmy Fallon. On the one hand, it's nice to see that he's so self-aware - viral moments sometimes become way less enjoyable when the people involved start to get in on the joke. On the other hand, it's kind of tragic that our newfound obsession -- er, appreciation -- of Chris Evans in cable knit sweaters has led to a scenario in which we may never see him in them again.
Unfortunately, we probably also won't get to see him in the next installment of Knives Out. Rian Johnson has confirmed that the only character that will return for the sequel is Daniel Craig's detective.
Do you support Chris Evans' decision to disengage from the cable knit sweater discourse? Let us know in the comments!
Your Daily Blend of Entertainment News