Chris Evans Is Reuniting The Original Avengers For A Charitable Cause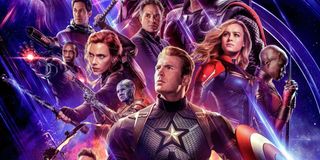 Celebrities have found tons of creative ways to stay connected with fans during these unusual times. Now, Chris Evans is getting the Avengers cast back together not only to reach out to them but to also give back to a charitable cause.
Before May 1, Chris Evans mostly kept his social media interactions on Twitter. In fact, he didn't even have an Instagram account -- at least, until fellow MCU-er Chris Pratt tagged him in the All-In Challenge. This social media campaign, started by Justin Bieber, gives celebrities a chance to offer up some exciting perks to fans who donate. All of the money collected goes to Feeding America, Meals On Wheels, World Central Kitchen and No Kid Hungry. For example, the lucky fan who wins Chris Pratt's contest will get to be eaten by a Jurassic Park dinosaur. Which is… pretty awesome.
Chris Evans created his Instagram account so he could respond to the Guardians of the Galaxy star and offer up his own contest for fans. In a short video, he happily accepted the challenge:
After that, he offered up details about what he's offering to fans for his All-In Challenge:
At the end of the video, Chris Evans tagged Billy Porter, as well as two more co-stars, Sebastian Stan and Anthony Mackie. Thus far, they haven't responded with details -- maybe the Falcon and Winter Soldier duo will find a way to get fans even more Avengers goodies. Take a look at his first-ever Instagram post below:
Given that we all probably thought we'd never see the Avengers team back together again after Endgame, this is a pretty awesome opportunity. In the Instagram post, Chris Evans shared a link where fans can choose how much they want to donate -- $10 gets you ten chances to win, $25 gives 25 chances, $50 gives you 100, and $100 gives you 200. According to the rules on the page, the winner, along with two guests of their choice, will get to spend 40 minutes with the Avengers cast members on a private virtual chat. All in all, it's an awesome opportunity for fans, and gives everyone involved a way to help out just a little bit during this difficult time.
Your Daily Blend of Entertainment News