Disney+'s Artemis Fowl Has A Ton Of Practical Effects, But That Didn't Make It Easier To Film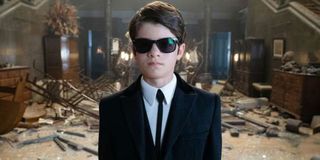 (Image credit: Photo courtesy of Disney+)
We're used to hearing about movies being heavily reliant on VFX, and while there are plenty of cool effects that can be found in Disney+'s upcoming family film Artemis Fowl thanks to visual wizardry, that doesn't mean the flick was heavily reliant on VFX as a whole. In fact, an abundance of minor details thought stunts, props, makeup and even sets were created practically to make the movie based on Eoin Colfer's series of books look as close-to-reality as possible. But that didn't always make things easier on the team that was actually responsible for figuring out the best ways to film the movie.
The Disney production actually built a full version of Fowl Manor, a popular landmark from the novels, so that filming could commence on a practical level. Envision this: There's a house that looks like a normal home – or as normal as a small manor can look -- tucked away outside London, though the finished product will make viewers think it can be found near the seaside somewhere (another thing we can thank the VFX team for). The house in question has multiple rooms, including a library and a portrait gallery, as well as the regular rooms you'd expect, such as bedrooms and a kitchen. It was built by Disney to last a fair number of years.
It even has electricity pumped in. In fact, the house has everything but the plumbing, as Production Designer Jim Clay told CinemaBlend and other journalists during a visit to the set in London as Artemis Fowl was still filming.
In fact, there were a slew of "challenges" to filming large chunks of Artemis Fowl in a large house setting, though the end results look "more gritty" and very "unique" on film. A brand new exclusive look at Artemis Fowl really gives us a look at the end result, showing us exactly how Fowl Manor will look on the screen.
The clip in question features a conversation between Nonso Anozie's Butler and Ferdia Shaw's Artemis and reveals some of the clues the two are following to unravel a mystery related to Fowl's father, played by Colin Farrell, but the scene is a visual treat as well. Further looks at the movie from its full-length trailer really capture the spirit and the overall look of the movie, although certain aspects of the film known from the books, including the Lower Elements do have more of the VFX components that are regular additions to films.
While the look of Artemis Fowl is richly detailed, lots of behind-the-scenes stuff had to accommodate major scenes familiar from the books, including an attack on Fowl Manor by a troll and more. So, teams including props, set design and more had to figure out ways to "rebuild" sets after they got essentially ripped apart as part of the plot of the film. Jim Clay touched on this a little more when he revealed how Artemis Film had to do things a little differently than other productions.
But that's not what happened and it meant other other teams had to be innovative as well. According to set decorator Celia Bobak one room in the house had to be photographed to essentially be completely rebuilt when the time came:
At the end of the day, the look of the film is visually lush and should be one of the biggest budget projects heading to Disney+ so far – in the same ballpark as shows like The Mandalorian in fact. We'll have to wait and see if building a house to withstand the elements for some time will pay off, but families will be able to check out the upcoming film beginning on June 12, only on Disney+.
Reality TV fan with a pinch of Disney fairy dust thrown in. Theme park junkie. If you've created a rom-com I've probably watched it.
Your Daily Blend of Entertainment News
Thank you for signing up to CinemaBlend. You will receive a verification email shortly.
There was a problem. Please refresh the page and try again.