Scarlett Johansson Reveals That Black Widow's Movie Has A 'Deeper' Message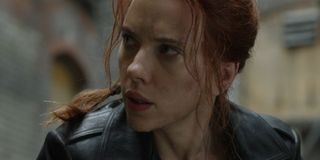 Most superhero movies are generally seen as fun, popcorn flicks; they're cheap, fun, light, and easily digestible. You don't usually walk into a superhero movie thinking you'll walk away with some new, profound lesson. And if it does have one, it's usually buried underneath the explosions.
Turns out, this might not be the case for upcoming superhero movie Black Widow, directed by Cate Shortland and starring Scarlett Johansson. Recently, she spoke with Parade about the new movie, including its deeper message. Here's what she said:
Indeed, the MCU has made a name for itself more for its funny characters than its deep subtext. That's not to say Marvel hasn't injected themes and meaning into their movies, but, it's refreshing all the same to hear Scarlett Johansson say they're being thoughtful about the writing of Black Widow.
Black Widow will follow Natasha Romanov in-between the events of Captain America: Civil War and Avengers: Infinity War where she'll help out old Russian allies. Kevin Feige said the movie will dive much deeper into Natasha Romanov's backstory that's only been hinted at in other movies.
On top of that, you won't have to worry that the action will be phoned in. In fact, Scarlett Johansson claimed they're doubling down on bringing back Black Widow's classic fighting moves that point to her assassin-filled past.
Unfortunately, news broke in late March that Black Widow would be delayed from releasing in theaters. It's original release date was May 1. As that date came and gone, Marvel fans across the internet mourned the delay. Black Widow is now scheduled to be released on November 6.
While it's now hard to imagine anyone else playing Black Widow, Scarlett Johannsson wasn't even Marvel's first choice. Originally, Emily Blunt was set to play the character but had to drop out due to other contract obligations. The role went to Scarlett Johansson and she said gratefully, "the best call you can receive is after you are rejected for something and then you get it."
As it turns out, the Black Widow role was life changing for Scarlett Johansson in more ways than one. Not only was it a career boost, but she said it was the first time she learned combat training which gave her a brand new skill she wouldn't have had otherwise.
Marvel movies have made it a tradition to release a movie in May. So it's a little hard to swallow that we don't get to see Black Widow in action right now. Still, the way Scarlett Johansson talks about it, Black Widow will be well worth the wait.
Your Daily Blend of Entertainment News