The Flash's Robbie Amell Reveals The Marvel Roles He'd Like To Play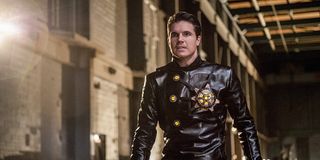 In the world of cinematic and television superheroes, it's not uncommon for actors to switch sides from DC to Marvel, or vice versa. Ryan Reynolds, for instance, infamously went from playing Green Lantern to being the "merc with a mouth," Deadpool.
So, it only makes sense for actors that have been in one superhero camp to speculate on who they might play in the other camp. Recently The Flash's Robbie Amell spoke with Comicbook.com and answered which roles he would like to play in the Marvel universe. Here's what he said:
Robbie Amell has a strong point. Since Disney purchased 20th Century Fox, the MCU just got a whole lot bigger. However, when those characters will be brought in hasn't been confirmed. Kevin Feige said they won't be in Phase 4 of the MCU, but teased there is a chance they could be in Phase 5. That's certainly plenty of time for Robbie Amell to try to snag an audition.
Robbie Amell's statement that they'll be rebooting Fantastic Four hasn't exactly been confirmed. Still, that hasn't stopped plenty of fans to speculate who might play well in those roles, including John Krasinski who has shared interested in being in it. Robbie Amell, for his part, would certainly fit well in the role of The Human Torch, considering he's already played a fiery role in the past, DC's Firestorm.
Robbie Amell first appeared on The CW's The Flash as Firestorm in 2014, but his role was fairly short. His character was killed off by the second season, but he has since made various appearances in the Arrowverse since.
This isn't the first time Robbie Amell has been tied to other comic book characters, either. When Ben Affleck stepped away from being Batman, fans started to speculate who would put on the cape and cowl and landed on Robbie Amell, creating compelling fan art in the process. Of course, we now know that role eventually went to Robert Pattinson.
It would be cool to see Robbie Amell make the jump from a DC television superhero to the big screen on a Marvel movie. And, as he suggested, there's plenty of Marvel movie properties to choose from. So, what do you think? Which Marvel role would you want to see Robbie Amell play?
Your Daily Blend of Entertainment News