Upload: 9 Movies And Shows You've Seen Robbie Amell In Before The Amazon Series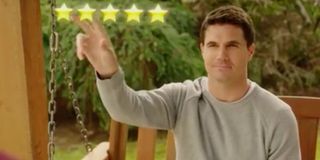 Robbie Amell stars in Amazon Prime's charming new Greg Daniels comedy, Upload. The series follows Amell's character Nathan as he adjusts to his new afterlife in Lake View, a premium digital space for the consciousness of the deceased. In the afterlife, Nathan finds love, mystery, friends, and starts to appreciate the importance of positive user reviews. Upload has a talented cast that includes Andy Allo, Allegra Edwards, and Kevin Bigley, and led by Robbie Amell, who brings humor, sincerity, and charisma to Nathan. Robbie Amell is one of the show's biggest strengths.
For nearly 15 years, Robbie Amell has been building his acting resume--appearing in hit TV series, cult-favorites, and streaming sensations. Robbie Amell's face might look a little familiar because he's popped up in a few dozen projects, and you've likely seen him in one or two of them. (Or maybe because he looks a bit like his cousin, Stephen Amell.) To help you with the "Oh! That's where I've seen that guy from!" moment, here's a little refresher on some of the major projects that Robbie Amell has appeared in in the past.
Code 8 (2019)
Code 8 is a crowdfunded short film that became a feature length movie, and has been a hit on Netflix since its release. Code 8 stars cousins Robbie Amell and Stephen Amell as criminals with superpowers. Connor (Robbie Amell) gets involved with crime to try to save his mother. The film shows Connor as this vulnerable figure who doesn't have the same corruption as those around him, but his determination to save his mother could easily push him over the line of no return. With Connor, Amell must walk the line between desperate times call for desperate measures and losing his moral compass. Connor keeps the audience rooting for him by being vulnerable and mission driven all Code 8.
The Flash (2014)
Most people recognize Robbie Amell from his stint on The Flash as Ronnie Raymond, the series' original other half of Firestorm. He played Caitlin Snow (Danielle Panabaker)'s fiance who is believed to be dead in the first season. It's later revealed that he isn't dead, instead he merged with Martin Stein (Victor Garber). Together, they become the single entity of Firestorm. Firestorm mainly works with Ronnie as the body and Stein as the mind. Eventually, the men learn to share their abilities and how to separate themselves.
The Duff (2015)
Robbie Amell stars opposite Mae Whitman in The Duff, a romantic teen comedy. Mae Whitman plays Bianca, who believes she's the Duff (Designated Ugly Fat Friend) to her two beautiful besties. She then enlists former childhood friend and popular jock Wesley (Robbie Amell) to help make her over. Obviously, Wesley and Bianca start to fall for each other. We've seen the popular guy-nerd girl combo in a ton of romance movies, especially the teen ones. The Duff is a little different in that it's not really the nerd makeover movie you're expecting. Amell and Mae Whitman create genuine chemistry that makes you root for them, and actually grow to like Wesley--despite his early douche behavior. He develops into a suitable, likable love interest.
The Tomorrow People (2013)
The Tomorrow People is a short lived sci-fi superhero show starring Robbie Amell, Peyton List, Luke Mitchell, Aaron Yoo, and Madeleine Mantock. It follows a group of young adults who develop powers due to evolution. The show begins with Stephen (Robbie Amell) gaining powers and joining the Tomorrow People. He clashes with current leader John (Luke Mitchell), because of them both vying for the leader spot, and Stephen's feelings for John's girlfriend Cara (Peyton List).
The Babysitter (2017)
The Babysitter is a Netflix original horror comedy movie. It stars Samara Weaving, Judah Lewis, Hana Mae Lee, Robbie Amell, and Bella Thorne and is about a young boy Cole (Judah Lewis) who discovers that his babysitter and her friends are part of a demonic cult. Amell plays Max, one of Bee (Samara Weaving)'s friends. He's a jock and part of the cult. Max is the typical good looking psychopath, but shows some honor when trying to kill Cole, so kind of a killer with a code.
When We First Met (2018)
When We First Met is a romantic comedy starring Adam DeVine, Alexandra Daddario, Shelley Hennig, and Robbie Amell. Adam DeVine plays Noah, a man in love with his best friend Avery (Alexandra Daddario). She's about to marry Ethan (Robbie Amell), and Noah regrets not making a move on Avery when they first met. He gets a second chance (and like a million others) when he discovers a way to go back in time. Ethan is a nice guy who loves Avery. He's a really likable person that makes it hard for Noah to truly hate him. Eventually, Noah sees that Ethan might be the right one for Avery.
True Jackson, VP (2008)
In the Nickelodeon series, True Jackson, VP, True Jackson (Keke Palmer) gets the opportunity of a lifetime when she's hired to become the Vice President of the youth apparel division of a major clothing brand. It's run by founder Max Madigan (Greg Proops). Robbie Amell plays Jimmy Madigan, Max's nephew and True's main love interest throughout the series. He also works for Max's company Mad Stye, but as the mail deliverer. True and Jimmy at first are prohibited from dating because of the rules at Max, but eventually they're allowed to date and work in the same office. This was Robbie Amell's first lead TV role.
Picture This (2008)
Robbie Amell stars opposite Ashley Tisdale in this ABC Family (now called Freeform) romantic comedy. Mandy (Ashley Tisdale) is an unpopular girl subject to bullying by the popular girls, including her crush, Drew (Robbie Amell)'s girlfriend Lisa (Cindy Busby). Mandy and Drew start to fall for each other, and Lisa tries multiple ways to sabotage and stop their bonding. This simple romantic comedy works because of Amell's way of building chemistry with all his co-stars, and Ashley Tisdale is no exception.
Life With Derek (2005)
This Canadian sitcom followed the McDonald and Venturi family as they became a blended family when George Venturi (John Ralston) married Nora McDonald (Joy Tanner). They both have children from previous relationships. Their children Casey (Ashley Leggat) and Derek (Michael Seater) are the main focus. Robbie Amell has a recurring role as Max Miller, one of Casey's boyfriends. He's a quarterback that may be a typical teen boy, so a little immature, but he's a nice one that really cares about Casey.
Upload has recently been renewed for a second season, so fans of Amell will get a lot more of him soon. For those just getting to know the Canadian-American actor, then these are some good projects to start a Robbie Amell binge.
Your Daily Blend of Entertainment News
Spent most of my life in various parts of Illinois, including attending college in Evanston. I have been a life long lover of pop culture, especially television, turned that passion into writing about all things entertainment related. When I'm not writing about pop culture, I can be found channeling Gordon Ramsay by kicking people out the kitchen.
Your Daily Blend of Entertainment News
Thank you for signing up to CinemaBlend. You will receive a verification email shortly.
There was a problem. Please refresh the page and try again.