Wait, Star Trek Helped Save Mission: Impossible 2?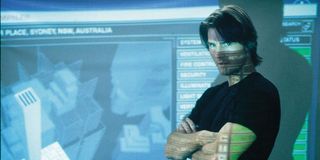 Back in 1996, Mission: Impossible, directed by Brian De Palma and starring Tom Cruise, became a critical and box office success story. It was the type of spy thriller that begged for a sequel. But with director troubles, it was having a hard time getting off the ground.
Now, as it turns out, Star Trek: First Contact had a part to play in helping save Mission: Impossible 2. Ronald D. Moore and former writing partner Brannon Braga, who wrote First Contact, got on Tom Cruise's radar when the movie became a huge success. Ronald D. Moore explained that they were then approached by Paramount to help Mission: Impossible 2. Here's what he said:
With Mission: Impossible's success, Tom Cruise wanted to get started on a sequel right away. He approached then director Brian De Palma and asked him when they could do a sequel, and De Palm honestly wasn't too keen on continuing the story of Ethan Hunt. Nevertheless, De Palma's curt response didn't belay an eager Tom Cruise.
At the time, Ronald D. Moore and Brannon Braga were budding writers working on Star Trek: The Next Generation. So for them, being asked to take on a Mission: Impossible project was the opportunity of a lifetime. During his chat with The Hollywood Reporter, Ronald D. Moore later added:
While Star Trek: First Contact received rave reviews, Mission: Impossible 2 became one of the most maligned installments in the Mission: Impossible franchise, with most critics and audience's panning it. CinemaBlend even gave it one and a half stars, saying:
Still, the critical setback of Mission: Impossible 2 didn't set the franchise back at all. Today, Tom Cruise and Chris McQuarrie are hard at work on Mission: Impossible 7 and 8. With a strong track record and a rabid fanbase, it's hard to imagine the Mission: Impossible franchise would ever end. And as weird as it sounds, we have Star Trek to thank for that.
Your Daily Blend of Entertainment News