Let's Give Tom Cruise's Mission: Impossible Its Own Day, Here's How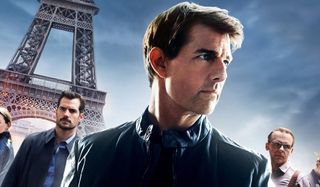 Somehow, without any real notice or forewarning, there was a special day dedicated to the Tom Cruise classic Top Gun that randomly spawned on the calendar last week. Not that there's anything wrong with taking a day to celebrate the need for speed, but if we'd had a heads up, we could have really done something special for this big day. Which is why, if we're going to have another internet holiday for a Cruise-terpiece, it should be Mission: Impossible Day, and planning it should start right now.
Creating a holiday certainly isn't an easy thing, as we've seen throughout history. So I'd like to take the time to lay out the foundation of Mission: Impossible Day, and some easy and exciting ways to celebrate the legacy of Ethan Hunt and the Impossible Mission Force. Of course, it's up to you to take advantage of this occasion, should you choose to accept it.
Why Should There Be A Mission: Impossible Day?
Anyone who's a fan of Tom Cruise will tell you that whenever he has a movie in the works, it's a reason to celebrate. But when you take what could have been a standard TV adaptation and turn it into a stylish franchise that's still running for over two decades strong, that's cinematic alchemy. Death defying stunts, intriguing espionage and a lot of work involving masks all feel like things we could use in our lives right now, and Mission: Impossible has all of that and then some.
How Do We Make Mission: Impossible Day A Thing?
Like any internet holiday, it begins with a word of mouth campaign. Mission: Impossible fans would be encouraged to use their social media accounts to get a simple hashtag like "#MissionImpossibleDay" trending on the day we choose. So when the first Mission: Impossible day arrives, whenever that date happens to be, all folks would have to do is use their digital voices and create a trend too big to ignore.
What Day Should Mission: Impossible Day Fall On?
There's a couple of good candidates for when Mission: Impossible Day could be officially observed. We could go with August 18, as that's Ethan Hunt's official birthday. Or, if we really wanted to get cute, we could say March 16, in honor of the "Job 3:16" gag in Mission: Impossible's first cinematic mission. But for convenience, and because it's actually pretty close on the calendar, we'll go with the opening date of Mission: Impossible back in 1996, which means May 22 should now be circled on your calendar.
Practice Your Mask Application/Removal Skills
So how does one celebrate Mission: Impossible Day? Well, a good start would be to take a page from one of the franchise's longest running hallmarks, and practice applying and removing a mask that's on your face. Not only would this skill help when it comes to going out into public during these pandemic times, but just imagine how cool it'd feel to rip your mask off once you get home.
Maintain Your Exercise Regimen With A Good Run
Another simple way to celebrate Mission: Impossible Day in a safe, but healthy way is, naturally, to keep in shape with a good run. Whether you're dashing around your local park trail or trying to outrun a sandstorm in pursuit of an enemy agent, it's never a bad idea to be able to pick up the pace when the moment calls for it. Just be sure to stretch and watch yourself, as you wouldn't want to, say, break an ankle during any physical activity.
Brush Up On Your Foreign Language Skills
While the Mission: Impossible series' stunts are definitely one of the franchise's most memorable factors, there's a lot of fantastic tradecraft that goes into any Impossible Mission. Which is why, if you're stuck at home and don't exactly feel like taking a run, you can always opt to do something equally valuable, like practice a foreign language or five. You never know when you'll have to bluff your way into The Kremlin or communicate with a covert agent in the field. So pick a couple languages to brush up on, and start ordering those Muzzy tapes!
Remember To Keep Your Grooming Game On Point
Yes, we're all in lockdown. And yes, people aren't always going to see our looks outside of a supply run or a Zoom call. That doesn't mean that you, as a Mission: Impossible fan, should keep yourself in anything but tip top IMF ready shape. Just as Tom Cruise's Ethan Hunt never knows when the next mission is going to come, Mission: Impossible Day should be a reminded to keep yourself spruced up at all times. Before you ask, of course mustaches are welcome.
Tune Up Your Motorcycle, In Case Of Random Action Sequences
You could really say this Mission: Impossible Day tip is valid for any sort of vehicle, be it a motorcycle, car, ATV or bicycle: it's always important to have your mode of conveyance in top working order. One never knows when they'll have to take off top speed on a sunny beach, speeding towards a nemesis they'll have to bike fight. Also, the last thing you want when dangerously driving against traffic is for your bike to stall out.
Know When A Story Is So Good, It Needs To Be Told In Two Halves
Sometimes it's easy to get carried away and tell a story so involved, it really should be split in half. Much like writer/director Christopher McQuarrie took the opportunity to churn out not one, but two sequels with Mission: Impossible 7 and 8, it's always ideal to know when to split your tale in half. Not only will you maximize the action quotient, but you'll also let all of those other beats built into your total package.
Rent/Buy The Mission: Impossible Series To Wind Down
If you absolutely do not want to get too involved and just want to kick back and celebrate Mission: Impossible Day in the most meat and potatoes way possible, renting or buying the installments you choose to accept into your life might be the most fitting choice. Of course, there's no wrong way to celebrate, but with Hulu having at least two of the Missions in its catalog as of next month, this is certainly one of the most accessible methods.
Listen To The Light The Fuse Podcast
So you've seen all the Mission: Impossible movies, and you think you know them back to front. But do you really know them that well? The only way you can absolutely be sure is to listen to the Mission: Impossible fan podcast, Light The Fuse, as everything from the vast video game tie-ins to scoops on the upcoming Mission: Impossible 7 and 8 have been examined to great detail. As any IMF agent will tell you, keeping yourself well informed is probably the most valuable skill a field agent could have; besides the ability to hold your breath for about 5 minutes underwater.
No matter how you celebrate Mission: Impossible Day, the key is to actually do just that. Share your favorite scenes, quips, or Tom Cruise stunts in our comments section! Take to your social media platform of choice and show off your collection or fan art heralding the adventures of Ethan Hunt and the rest of the IMF team.
Or just keep counting the days to Mission: Impossible 7's November 19, 2021 release date; because the delay is surely going to be worth the wait. Just don't forget that this Friday, May 22, could be the first Mission: Impossible Day, so long as you don't disavow this helpful checklist to make it so. This feature will self-destruct in five seconds, so you may want to copy and paste all of this rather quick-like. Good luck.
CinemaBlend's James Bond (expert). Also versed in Large Scale Aggressors, time travel, and Guillermo del Toro. He fights for The User.
Your Daily Blend of Entertainment News
Thank you for signing up to CinemaBlend. You will receive a verification email shortly.
There was a problem. Please refresh the page and try again.