12 Good Movies On Netflix That Are Based On True Events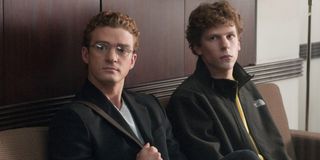 CinemaBlend is partnering with PIA VPN to bring you fresh content to stay in and stream with each day. We're also offering a special 76% discounted rate for a limited time only. You can sign up for the package with PIA here. (opens in new tab)
Though it's hard to find absolute truth in cinema, even in documentaries, the movies that are rooted in some sort of realism or reality can become the most intriguing and the most investing, especially when you know that what you're seeing on the screen is based — or, at least, partially inspired — by true events. Indeed, while some of these movies take more liberties with their real-life inspirations compared to others, there are several movies out there based on true stories (a notation you've probably seen once-or-twice before in front of movies), and there are several movies currently available on Netflix that derived from real people or real events. In fact, some of these titles are among the best movies on Netflix, and that's no lie. Here are some movies you should stream if you love movies based on true stories and/or real-life people.
The Social Network (2010)
In truth, there were several creative liberties taken with David Fincher's The Social Network. Adapted from Ben Mezrich's The Accidental Billionaires, this dramatized retelling of the birth of Facebook, and what inspired one of the biggest, most prominent social media platforms on the planet, provides a Citizen Kane-esque look at one of our most influential media moguls. It explores the reasons why he made it and how personal failures inspire professional fortunes — even if they don't provide true happiness along the way. Whether or not Fincher and screenwriter Aaron Sorkin truly got to the heart of Mark Zuckerberg's real-life character doesn't take away from the movie's impeccable craftsmanship.
It's a brilliant, expertly-made character study into one of our most controversial contemporary figures. Much like Facebook, what is presented may not always be accurate, but it paints a hell of a picture.
Stream It On Netflix here (opens in new tab).
The Death Of Stalin (2018)
Admittedly, 2018's darkly satirical The Death of Stalin doesn't exactly cling tight to the facts. A cinematic recreation of the turbulent series of events that transpire whenever Soviet leader Joseph Stalin dies in 1953, the newest film from writer/director Armando Iannucci (Veep) picks a tricky topic to explore comedy, but he does so richly and hilariously, dishing out several scathing laugh-out-loud moments of political anarchy, ruthless insults, and flagrant machismo that occur whenever this Russian leader unexpectedly passes away and the nation must figure out its next step.
If you're not a fan of bitterly funny humor, this one might not appeal to you. But with its sharp writing and its excellent ensemble, notably with Steve Buscemi, Jason Isaacs, and more doing top-tier work, The Death of Stalin squeezes as much humorously life as it can out of this morbid premise.
Stream It On Netflix here. (opens in new tab)
United 93 (2006)
Director Paul Greengrass is extremely effective at capturing a sense of intense realism in his films. Whether it's his Bourne sequels or cinematic re-creations of real-life events, like Captain Phillips, Greengrass is known to capture a gritty, intensely grounded authenticity in his best work. That's certainly the case with 2006's United 93. A dramatic portrayal of the events that took place abroad flight United 93, one of the hijacked planes during September 11th, 2001, Greengrass' film presents a nearly real-time examination of what these American passengers faced in this frightening, perilous moment, making the ultimate sacrifices to protect thousands of American lives — even if their own lives are taken in the process.
While we don't know what exactly went down in that hijacked plane on 9/11, Greengrass provides a vivid, sobering and powerful recreation of this tragic day in U.S. history.
Stream It On Netflix here. (opens in new tab)
The Two Popes (2019)
The transitional period between two popes is fascinating, fertile narrative ground to explore. Certainly, Anthony McCarten's Oscar-nominated screenplay is speculative in The Two Popes, imagining instead of knowing what discussions were had between these two towering, monumental figures of the Catholic Church. Nevertheless, The Two Popes is an engrossing, even entertaining look at what defines the legacies of these two men, exploring the humanity in these men-of-God and getting to the heart of what represents their time (or future time) in this pivotal priesthood position.
Anchored by strong performances from Jonathan Pryce and Anthony Hopkins, The Two Popes is given rich visual life from director Fernando Meirelles, invigorating a tale of two men chit-chatting with distinctive imagery and striking visual metaphors. How close this back-and-forth dialogue is to the truth isn't known, but what difference does it make when it's this accessible?
Stream It On Netflix here (opens in new tab).
The Runaways (2010)
There are several rock biopics that don't have the same spark and energy as their real-life inspirations. There's no sense getting into examples, but it's not hard to find many movies in this genre that don't quite match the epic heights of the bands they're trying to pay tribute to. While The Runaways doesn't reach the same heights as the 1970s band of the same name, it does contain their exhilarating electricity in the right moments. Anchored by strong performances from Kristen Stewart as the legendary Joan Jett and Dakota Fanning as Cherie Currie, The Runaways has enough punk-rock energy to honorably tell the story of this trendsetter band.
Based on Currie's book Neon Angel: A Memoir of a Runaway, The Runaways avoids a number of biopic tropes and clunky story beats, capturing the joy and enthusiasm of the band's ever-popular music.
Stream It On Netflix here. (opens in new tab)
Kill The Messenger (2014)
Journalism might not seem like an especially cinematic profession, admittedly, but there are more-than-a-few films that have given the profession life on the screen. One somewhat recent example that didn't get its full due is Kill the Messenger, which stars Jeremy Renner as Gary Webb, a San Jose Mercury News reporter who investigates the CIA's role in getting cocaine into the United States in the 1980s in order to get both money and weapons to freedom fighters in Nicaragua. This information is explosive, but also dangerous.
It's the biggest story of Webb's career, but reporting it without turning a few heads won't be easy. Based on the book of the same name by Nick Schou and Webb's book, Dark Alliance, Kill the Messenger is the type of movie that makes journalism pulpy and engaging. It also features one of Renner's best performances.
Stream It On Netflix here. (opens in new tab)
The Stanford Prison Experiment (2015)
In 1971, psychological professor Philip Zimbardo conducted an experiment where eighteen male students participated in a 14-day prison simulation where they either became a prisoner or guard. In the mock prison, the roles are assigned somewhat arbitrarily, but the results are almost immediate. As reality and fiction blur and the simulation seems like reality, the guards act morally superior and become abusive towards their fellow students — simply because they got one title over the other.
The controversial real-life experiment became revealing in many of the worst ways, providing a harrowing, haunting framework through which director Kyle Patrick Alvarez makes a chilling, relentless drama based on this true story. Through its stark storytelling, immersive performances, and taunt filmmaking, The Stanford Prison Experiment is challenging, but it's an entirely stirring film about the dangers of ill-moral power dynamics — perceived or otherwise.
Stream It On Netflix here. (opens in new tab)
The End Of The Tour (2015)
In 2008, the world was heartbroken to learn about David Foster Wallace's suicide. The best-selling Infinite Jest author was a wise, even mythic figure in late 20th/early 21st century literature, serving as a source of envy and wonder among writers everywhere. Certainly, while Wallace wasn't shy about putting his thoughts to paper, only a few folks had the opportunity to dig into the late author's psyche and explore the ponderous recesses of his mind. But that was a privilege given to David Lipsky, a Rolling Stone reporter who got the chance to interview the subject over the course of several in-depth conversations. Their discussions were detailed and fleshed out in Lipsky's memoir, Although Of Course You End Up Becoming Yourself, then adapted into 2015's poignant The End of the Tour, which offers thoughtful commentary on legacies and the human condition.
Stream It On Netflix here (opens in new tab).
Ip Man (2008)
You know Bruce Lee. But do you know the story of Ip Man, the martial artist who trained him? If you don't, or even if you do, you should check out the 2008 biopic of the same name, which chronicles the life story of the martial arts grandmaster, particularly as he battled poverty and briefly forgoes his life work to provide for his family, and eventually train others in self-defense, as tensions mount during the Japanese invasion of 1937. While the biopic tropes can be a little clunky at times, there's no denying the majesty and exuberance of the fight sequences, all of which are stunningly choreographed and expertly performed. But even beyond the exciting action scenes and set pieces, the film is carried by Donnie Yen's sincere, touching performance. It's easy to see why this film franchise was so successful for him.
Stream It On Netflix here. (opens in new tab)
Jarhead (2005)
Oftentimes, war movies showcase the valor, the hardships, and the glamor of fighting tough battles, as well as the courageous bravery that comes with selfless acts of potential— or actualized —sacrifice for the freedom of others. Rarely do we get many war movies quite like Jarhead, based Anthony Swofford's 2003 memoir, which explores his time as a marine in the Gulf War. Rather than watch the fearless triumphs that come with serving your country, director Sam Mendes witnesses the mundane and the isolation found from fighting in a war you might not understand or comprehend —even when you're in the trenches.
Instead of paying tribute to noble fallen heroes, Jarhead opts to study the blistering humanity of these young, sometimes aimless men lounging in the hot sun, looking for answers for their war-driven efforts or what they want to do with their listless lives.
Stream It On Netflix here. (opens in new tab)
Elizabeth (1998)
In the role that helped pave the way for her incredible acting career, Cate Blanchett explores the early years of Queen Elizabeth I in Elizabeth, the acclaimed film where Blanchett got her first Oscar nomination. Exploring the difficult task of becoming a monarch and how it shaped her legacy, the drama has cinematography, art direction, music, costume design, and make-up, for which it won an Oscar. But it hinges on Blanchett's performance, and she does an outstanding job of communicating the nuanced struggles that come from taking on this powerful position, especially at an early age. Bringing a great deal of international acclaim for the noteworthy actress, much like Queen Elizabeth I herself, it'd be the start of an astonishing career. She reprised the role in 2008's Elizabeth: The Golden Age, but it unfortunately wasn't as good — though it's also available on Netflix.
Stream It On Netflix here (opens in new tab).
Molly's Game (2017)
Following his decades of screenwriting and show-running, working with directors like David Fincher and Danny Boyle, Aaron Sorkin finally stepped into the director's chair himself with Molly's Game. Based on the memoir of the same name by Molly Bloom, this biographical crime-drama sees our title character (Jessica Chastain) become the target of an FBI investigation after her underground poker empire is exposed. Providing yet another tale of a true figure hoping to prove themselves and reach for greatness in a competitive, even dangerous field, Molly's Game hits many beats you'd expect from a Sorkin joint, and it plays around with fact and fiction as the screenwriter-turned-filmmaker did with Steve Jobs and the aforementioned The Social Network. But while this pulpy, entertaining tale doesn't hit greatness, it captures a similar whiz-bang charm. Plus, the sharp dialogue, complemented by strong performances, really seals the deal.
Stream It On Netflix here (opens in new tab).
What are some other true-life stories that you recommend on Netflix? Let us know in the comment section below!
Your Daily Blend of Entertainment News
Will is an entertainment writer based in Pittsburgh, PA. His writing can also be found in The Playlist, Cut Print Film, We Got This Covered, The Young Folks, Slate and other outlets. He also co-hosts the weekly film/TV podcast Cinemaholics with Jon Negroni and he likes to think he's a professional Garfield enthusiast.
Your Daily Blend of Entertainment News
Thank you for signing up to CinemaBlend. You will receive a verification email shortly.
There was a problem. Please refresh the page and try again.