Why The New Twilight Novel Is Coming This Summer, According To Stephanie Meyer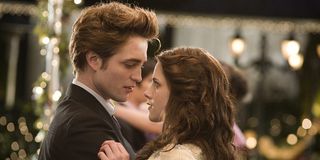 Like ravenous glittering vampires, Twilight fans have waited a long time to devour Stephanie Meyer's companion novel Midnight Sun. And by long time, I mean 15 years since she first brought Twilight into existence and eventually announced she was working on this novel. For a while, it probably felt like she had given up entirely, but then fans got a ray of hope.
Stephanie Meyer's website recently teased Midnight Sun's potential release. And now we know the novel will be released this summer, August 4th. But, the question remains, why the long wait? Stephanie Meyer appeared on Good Morning America to give an explanation. Here's what she had to say:
Midnight Sun, not to be confused with the movie starring Bella Thorne and Patrick Schwarzenegger, is a companion novel to Twilight from the perspective of Edward Cullen rather than Bella Swan. It'll give deeper insight into what he was thinking and doing while Bella pined for him in the Twilight novel.
Stephanie Meyer had been hard at work on Midnight Sun since 2008 shortly after the Twilight movie released in theaters. However, fate derailed her plans when 12 chapters were leaked to the public. The experience caused her to have writer's block, so she put the whole thing on hold. Here's what she said about it:
While many Twilight fans have since moved on with their lives and put away such things, the Twilight fandom overall has stayed relatively intact and actually thrived. It was this fandom that obsessed over Midnight Sun, downloaded the unofficial manuscript, and throwing Stephanie Meyer into a long authorial hibernation.
With the release of Midnight Sun, there's been some talk of a possible movie and a reboot, since Robert Pattinson has moved on to other things. Could this mean there will be a new Twilight awakening? Doubtful, but I bet movie studios will certainly try nevertheless.
Your Daily Blend of Entertainment News