Twister: 10 Behind The Scenes Facts About The 90s Tornado Thriller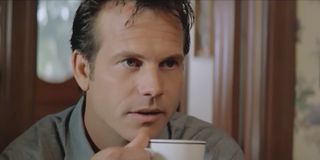 This may sound a little crazy, but Twister has always been one of my favorite movies to watch. While it's not the best movie to come out in the past 30 years, the 1996 disaster film remains on the list of movies that I will watch under any circumstance. In the theater with my grandma the summer before third grade? Yep. On CMT on some random Tuesday night? Why not. And over time, I've become what could describe as obsessed with the movie and am constantly digging around to find all sort of behind the scenes facts about this classic.
And wouldn't you know, there are so many crazy stories about how Twister came together (both good and not so good) that I think everyone who's obsessed with the movie, or at least seen it once or twice on cable, should know. So, without wasting any more time, let's load up Dorothy, grab a bag of food from Aunt Meg's house, and go find us some Twister facts.
Twister Was Given A Green Light Before A Script Was Even Written
Twister was one of the most successful movies of the '96 summer blockbuster season, bringing in $494 million at the global box office before everything was said and done. But if we're being honest, no one bought a ticket for the movie because they were interested in the love triangle between Bill Paxton, Helen Hunt, and Jami Gertz's characters. We were all there to see tornados wreck the Oklahoma landscape and figure out how Dorothy worked. And it seems that millions of moviegoers who flocked to theaters weren't alone.
In a 2015 Wired roundtable discussion highlighting the successes of Industrial Light And Magic (the team who designed the special effects for Twister, producer Kathleen Kennedy revealed that a script hadn't even been written when ILM submitted test footage to Warner Bros., stating:
But while the visual effects tests came together rather smoothly, the producers would soon discover that getting a working script ready to shoot was going to be no easy task.
Joss Whedon Turned In His Rewrites On The Day Of His Wedding
Joss Whedon helped fix the Twister script because, well, he was Joss Whedon in the '90s. Much like how the writer-director was brought in to help with reshoots on Justice League more than 20 years later, the creator of Buffy The Vampire Slayer was tasked with rewriting the story. After working extensively on the script for several months (except for when he came down with bronchitis), Whedon eventually turned in his final revisions on what was the happiest day of his life.
In an extensive EW profile on the tumultuous production the 1996 disaster movie, Joss Whedon said he worked on the changes up to the last possible moment, stating:
Garth Brooks Was Offered A Role, But He Didn't Want To Play Second Fiddle To A Tornado
This next little bit of Twister trivia could possibly be one of the most ridiculous things you'll read today, but I felt like it belonged her more than anything else. You know Garth Brooks, the alter ego of the rock musician Chris Gaines? Well, we could have seen the "Boot Scootin' Boogie" country star in Twister, according to his former business partner Lisa Sanderson.
According to a lawsuit filed by Garth Brooks' former business partner of 20 years (via TMZ), the highly successful country musician had the chance to appear in a number of different blockbusters, including Saving Private Ryan, but the singer's ego reportedly got in the way. One of the funniest examples listed in the suit is the one about Brooks turning down a villainous role (I can only guess that it was Cary Elwes' doomed Dr. Jonas Miller) because he didn't want to play second fiddle to a tornado.
The Director Of Photography And Multiple Cameramen Walked Off Set
By all accounts, the filming of Twister was a fiasco with the members of the cast getting seriously injured, extensive delays, and a number of other incidents that reportedly made life on set a living hell thanks to the working conditions put in place by director Jan de Bont, the cinematographer-turned-director. And no one knows that better than the one-time director of photography Don Burgess and the nearly two dozen camera operators who walked off the set.
In an EW article published nearly a year before Twister would hit theaters, it was reported that the Dutch director allegedly pushed a camera assistant into the mud while shooting and came to blows with the director of photography who he called "incompetent." Having enough of the creative differences with Jan de Bont, Don Burgess left the project partway through production, allowing Jack N. Green to come in and finish things up.
Bill Paxton And Helen Hunt Were Temporarily Blinded During Production
Throughout the events of Twister, Bill Paxton and Helen Hunt's characters spend quite a lot of time together, especially when you consider the fact they are supposed to be a couple finalizing their divorce. Those scenes took a toll on the actors, who were both temporarily blinded by production lights pointed at the cab of the truck when they were filming some closeup scenes.
Sitting down with EW around the film's 1996 release, Bill Paxton explained after hours of sitting in front of the lights he knew something was up when he got back to his hotel, stating:
Helen Hunt was suffering the same symptoms and so a local ophthalmologist and a UCLA eye specialist took a look and confirmed that the actors were temporarily blinded by the light. Both escaped permanent damage, but they had to wear special glasses for a few days.
The Two Leads Were Also Required To Get Hepatitis Shots
Treatment for temporarily loss of vision wasn't the only thing Bill Paxton and Helen Hunt had to undergo as both were required to get hepatitis shots following a rather dirty scene during the middle of production. While sitting down with The Ringer for a retrospective on the special and practical effects behind Twister, ILM's Habib Zargarpour confirmed that the actors needed get the shots due to grime being swept up during a tornado scene, stating:
The Iconic "We Got Cows" Scene Was Inspired By Actual Events
Whenever someone mentions Twister, I immediately picture the scene where Jami Gertz's character hangs up on a client after saying "We got cows." What comes next is a visual effect that no one will ever forget: a cow caught up in a funnel cloud. The effect was one of the most impressive shots of its kind at the time, but the idea behind the shot was inspired by actual events.
During a 2016 interview with vfxblog, visual effects supervisor Stefen Fangmeier explained:
Projecting The Shining Over A Tornado Was A "Dream Come True" For The Visual Effects Team
One of the other great visual effects in Twister is found in the scene where the tornado rips through the hotel and drive-in movie theater where the movie's storm chasers are resting up, specifically when Stanley Kubrick's The Shining is projected on the cloudy wind and debris of a large tornado.
In The Ringer's retrospective on effects teams brought in to create the film's most iconic shots, ILM's Ben Snow explained that he begged to work on the scene, stating:
Bill Paxton Had A Long-Lasting Impact On The Small Town Where Twister Was Filmed
Twister was primarily shot in the small town of Wakita, Oklahoma, where all these years later, the local townsfolk still remember the impact the late Bill Paxton had on their lives. Shortly after the actor's death in 2017, News 9 out of Oklahoma City, interviewed many of those people who had interactions with the actor more than 20 years earlier. One of the local residents, Linda Wade, told a reporter:
Linda Wade, who opened a Twister museum after the film was released in 1996, said that Bill Paxton continued to donate items to the museum, including the football mentioned up above. Wade went on to say that Paxton would include a handwritten note with each of the donations, reminding residents that he still remembered them after all these years.
Following Paxton's Death, Hundreds Of Storm Chasers Came Up With An Impressive Tribute To The Late Actor
The residents of Wakita, Oklahoma weren't the only people to pay tribute to Bill Paxton after his death. Shortly after Paxton's passing in early 2017, Oklahoma meteorologist Aaron Brackett shared a touching tribute to the Twister star on his Twitter account:
After the star's death, more than 200 storm chasers went to "Tornado Alley" and shared their GPS coordinates to spell out Bill Paxton's initials, providing perhaps the most touching tribute imaginable.
I couldn't think of any better way to end this list than with a tribute to the late Bill Paxton, whose talent and charm helped turned a movie about a group of outcast storm chasers into one of the most popular movies of all time. But if you're wanting to know more about Bill Paxton and his impact on cinema, then head on over to CinemaBlend.
Philip grew up in Louisiana (not New Orleans) before moving to St. Louis after graduating from Louisiana State University-Shreveport. When he's not writing about movies or television, Philip can be found being chased by his three kids, telling his dogs to stop yelling at the mailman, or yelling about professional wrestling to his wife. If the stars properly align, he will talk about For Love Of The Game being the best baseball movie of all time.
Your Daily Blend of Entertainment News
Thank you for signing up to CinemaBlend. You will receive a verification email shortly.
There was a problem. Please refresh the page and try again.