The Vast Of Night: What To Stream If You Liked The Sci-Fi Movie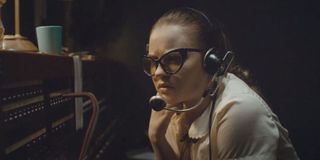 Movies are having a difficult time building buzz. With theaters closed, the world is scattering to all corners of the streaming landscape, looking for something to entertain. But with so many options, it can be a challenge mounting a wave of support for something that's unique and different. Ultimately, quality wins when it comes to luring audiences, which is why you probably have heard a thing or two about The Vast of Night, a thrilling sci-fi throwback currently attracting eyeballs to Amazon Prime.
Set in a recognizable New Mexican suburb in the 1950s, Andrew Patterson's The Vast of Night follows two wholesome teenagers – one a switchboard operator (Sierra McCormick), one a radio deejay (Jake Horowitz) – on the night that a UFO appears in the airspace over their neighborhood. Fay is made aware of their presence when her switchboard picks up a strange audio signal from the ship. She recruits Everett into helping her investigate, and they begin to hear stories from locals who suggest this visit isn't so out-of-the-ordinary.
Hollywood storytellers often look to the skies for inspiration, and some of our most memorable sci-fi classics deliver alien visitors from faraway realms. The Vast of Night pays more attention to the run up to an alien visit, but that puts it in the company of some incredible films that are available to stream once you finish Patterson's debut film. The truth is out there, Maybe you will find it in one of these beloved movies?
Close Encounters of the Third Kind (Showtime)
You can't really mention "alien visitation movies" without paying tribute to Steven Spielberg – a filmmaker so obsessed with extra-terrestrials, he appears numerous times on this list with impressive entries. Jaws co-star Richard Dreyfuss reteams with his director to play Roy Neary, an unassuming Indiana man whose life is altered after encountering a UFO. Like The Vast of Night, Spielberg's Close Encounters lingers in the mystery of the unknown that's associated with alien beings. The director would explore the more, um, aggressive side of aliens as his career progressed.
Super 8 (Hulu)
J.J. Abrams gets some flak for copying other director's approaches, while putting his own visual style on a familiar concept. If that's the case, then Super 8 is his loving tribute to the Amblin film label, the production shingle that gave audiences Poltergeist, Gremlins, The Goonies, Innerspace, Jurassic Park and the Back to the Future trilogy. (In fact, Amblin Entertainment helped Abrams' Bad Robot produce this film, so yeah, homage.) Joel Courtney and Elle Fanning are teenage Midwesterners who love shooting home movies. One evening, they capture a horrific wreck between a truck and a train, leading to a high-stakes confrontation between the kids, the military and an alien who might be on the loose in their town.
Stream it on Hulu (opens in new tab)
District 9 (Netflix)
Some movies question what humanity would do regarding an impending alien invasion. Neill Blomkamp's excellent District 9 drops us into a world where humans and aliens coexist… though not peacefully. Prawns are contained to District 9 outside Johannesburg. When the government decides it's time to move the aliens, a bumbling bureaucrat gets swept up in sprawling controversy that has him torn between the human race and the aliens (with which he might have more in common).
Stream it on Netflix (opens in new tab).
Starman (Crackle)
A blast from the past, featuring two winning performances by the great Jeff Bridges and the equally charming Karen Allen. With the legendary John Carpenter at the helm, Starman explores the natural bonds that would form between human and alien, should we not feel the need to immediately engage in military tactics. Bridges, who has always come across as a little "out of this world," plays an alien being who assumes the body of a deceased Wisconsinite. He's then aided by the man's widow (Allen) to get back to a ship so he can safely return home. It's nostalgic and sweet, like The Vast of Night, and it breaks down the differences that might separate us from another life force.
Signs (HBO Max)
There is an aspect of The Vast of Night that gets captured wholly in this early M. Night Shyamalan thriller, and that's paranoia. Fey and Everett don't know what they are walking into with a potential alien visit, and that same sense of mystery and dread hangs over every frame of Signs, where Mel Gibson and Joaquin Phoenix protect Rory Culkin and Abigail Breslin from an escalating invasion. Taking his cues from Alfred Hitchcock, Shyamalan draws more suspense from what isn't shown (which is always scarier), making Signs a mid-budget thriller with ample scares conjured by the threat of an alien presence.
Stream it on HBO (opens in new tab).
E.T. the Extra-Terrestrial (Netflix)
An absolute classic that was added to Netflix just in time for this list. Without giving too much away, the ending of The Vast of Night leads a little bit into where E.T. would begin. As a result, they explore different themes, while still having a throwback element of a simpler story, likely because they both are filtered through the eyes of younger characters. E.T. might be my favorite Spielberg film because it's bursting with the curiosity and wonder that he brings to his finest adventures. It makes a spectacular double feature with Patterson's new film, so team them up and stream away.
Stream it on Netflix (opens in new tab).
War of the Worlds (2005) (HBO Max)
When it comes to aliens, there are "visits," and there are "invasions." After exploring the safer, more benevolent approach in both Close Encounters and E.T., Steven Spielberg ramped up the terror of an alien attack in his big-budget adaptation of the H.G. Wells classic. War of the Worlds reminds us how incredible it is when Spielberg teams up with Tom Cruise. Making him an unlikely hero (and a deadbeat dad) gave us a credible entrance point into this terrifying chase movie, where Cruise and his kids (Dakota Fanning, Justin Chatwin) have to stay ahead of the threats if they hope to stay alive. Spielberg got edgier as he got older, and War of the Worlds shows a cynicism that was absent from his early films. We kinda like it.
Stream it on HBO Max (opens in new tab).