18 Steven Spielberg Movies Available For Streaming Right Now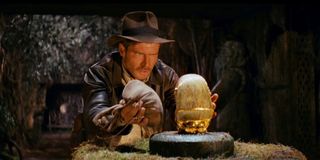 CinemaBlend participates in affiliate programs with various companies. We may earn a commission when you click on or make purchases via links.
Ask anyone who the four heads of their Mount Rushmore of filmmaking legends would be and, more than likely, one of them will be Steven Spielberg. The man is responsible for a large chunk of the most exciting, shocking, and moving moments in cinematic history, from E.T. the Extra-Terrestrial to Schindler's List among others, almost to the point at which he is synonymous with cinema itself, and many of those moments are right at your fingertips to be relived again with the Steven Spielberg movies streaming on some of the major platforms.
Once has a film of Steven Spielberg's been awarded the Academy Award for Best Picture, twice has the 73-year-old taken home an Oscar for his directorial duties, and thrice has one of his iconic blockbusters (one of which pioneered the term) achieved the all-time box office record. Few filmmakers can claim to be this accomplished, but all filmmakers want to follow in the footsteps of Steven Spielberg.
For those aspiring movie mavens with a lot of studying to do, all you need is a couple of subscriptions and a lot of time on your hands. The following are 18 films from the highly influential filmmaker that you can stream now, starting from his feature-length, studio film debut.
The Sugarland Express (MAX GO)
After making a name for himself directing television episodes and one successful TV movie called Duel, in 1974, Steven Spielberg released his first studio picture, The Sugarland Express, a comedy starring Goldie Hawn as a woman who takes a cop hostage while on the run with her escaped convict husband in an attempt to kidnap their son.
Stream it on MAX GO.
Jaws (HBO Now)
At 29, Steven Spielberg became the most profitable filmmaker of all time (until his buddy George Lucas beat him two years later with Star Wars) in 1975 with Jaws, based on Peter Benchley's novel about a oceanside town terrorized by a shark, which earned composer John Williams his second Oscar for the unforgettably heart-racing score and is often credited as the first ever "blockbuster."
Stream it on HBO Now.
Raiders Of The Lost Ark (Netflix)
Steven Spielberg and producer George Lucas teamed up in 1981 to make Raiders of the Lost Ark, starring Harrison Ford in his first appearance as archaeologist Indiana Jones trying to beat the Nazis to the discovery of an infamous Biblical artifact in 1936 Cairo, as a tribute to the movies, but ended up creating an Oscar-nominated classic that has inspired countless tributes since.
Stream it on Netflix.
Twilight Zone: The Movie (MAX GO)
In addition to serving as producer for the entire project, Steven Spielberg directed one of the four unique segments that make up Twilight Zone: The Movie, a 1983 fantasy anthology inspired by Rod Serling's iconic 1960s TV series, which also featured the directorial vision of George Miller, Joe Dante, and John Landis for their own respective segments.
Stream it on MAX GO.
Indiana Jones And The Temple Of Doom (Netflix)
Harrison Ford reprised his role as the resilient archeologist in Indiana Jones and the Temple of Doom, a surprisingly dark prequel to Raiders made three years later that sees Indy, a lounge dancer (Kate Capshaw, who later became director Steven Spielberg's wife), and a Chinese orphan (Ke Huy Quan) face off a sacrificial cult in 1935 India.
Stream it on Netflix.
Empire Of The Sun (Amazon Prime)
Starring a young Christian Bale in one of his first major roles, 1987's Empire of the Sun is, comparatively, one of Steven Spielberg's less grim World War II era films, following the true story a young English boy taken to a confinement camp after he is separated from his parents after the Japanese invade Shanghai
Stream it on Amazon Prime.
Indiana Jones And The Last Crusade (Netflix)
In 1989, Harrison Ford returned to put the hat back on one last time (or so we thought) for Indiana Jones and the Last Crusade, referring to what will ultimately become the final search for the Holy Grail, which also stars former James Bond actor Sean Connery as Dr. Henry Jones, Sr. for, arguably, the greatest onscreen father-son pairing in the history of action movies.
Stream it on Netflix.
Schindler's List (Starz)
Based on the true story of a German industrialist's (Liam Neeson) plea to save Jews from persecution in Nazi-occupied Poland and shot in striking black in white, Schindler's List is the most personal film of Steven Spielberg's career and would earn him his first Academy Award for Best Director and only Oscar for Best Picture in 1994.
Stream it on Starz.
Amistad (Starz, Sling)
Four years after Schindler's List, Steven Spielberg dove further back into our world's history of persecution with Amistad, starring Djimon Hounsou as an illegally captured African tribalist who leads a revolt aboard a slave ship, tasking an abolitionist lawyer (Matthew McConaughey) to speak for the non-English-speaking defendants in court.
Saving Private Ryan (Sling)
Steven Spielberg received his second Academy Award for Best Director in 1999 for Saving Private Ryan, a harrowingly realistic portrait of War World II following a crew of army rangers, led by Tom Hanks, on a life-threatening mission to locate the youngest brother of three slain soldiers (Matt Damon) and bring him home to safety.
Stream it on Sling.
A.I.: Artificial Intelligence (Showtime)
After Stanley Kubrick passed before he could finish it, Steven Spielberg stepped in to direct 2001's A.I.: Artificial Intelligence, a visually stunning futuristic fairy tale starring The Sixth Sense's Haley Joel Osment as a robot built to resemble a child who goes on a quest to become a real boy.
Stream it on Showtime.
Minority Report (Netflix)
In the year 2054, a time at which crime can prevented, Police Chief John Anderton (Tom Cruise) has 36 hours to prove his innocence in a murder that he has not committed yet in Minority Report, Steven Spielberg's dazzling, brilliantly designed, and particularly bleak 2002 adaptation of a thought-provoking short story by Phillip K. Dick.
Stream it on Netflix.
The Terminal (Sling)
Tom Hanks re-teamed with Steven Spielberg in 2004 to play Viktor Navorski, an immigrant whose ban from entering the United States and inability to return to his war-torn Eastern European country forces him to live inside New York's JFK Airport, in the charming romantic comedy The Terminal, which also star Catherine Zeta Jones as the beautiful flight attendant Viktor falls for.
Stream it on Sling.
War Of The Worlds (HBO Now)
Tom Cruise re-teamed with Steven Spielberg to play an irresponsible, divorced father who must protect his estranged children (Dakota Fanning and Justin Chatwin) in the wake of an alien invasion in this 2005 adaptation of H.G. Wells' groundbreaking 1897 science fiction novel The War of the Worlds, with Academy Award-winning special effects.
Stream it on HBO Now.
Indiana Jones And The Kingdom Of The Crystal Skull (Netflix)
Nineteen years after his supposed last crusade, a 65-year-old Harrison Ford returned for Indiana Jones and the Kingdom of the Crystal Skull, which sees the heroic archeologist reunited with a familiar face (Karen Allen) and teaming up with a new one (Shia LaBeouf) to prevent a Soviet agent (Cate Blanchett) from possessing of mysterious artifact of, seemingly, otherworldly power.
Stream it on Netflix.
The Adventures Of Tintin (Crackle)
Following a trend almost solely led by his pal Robert Zemeckis with The Polar Express and Beowulf, Steven Spielberg shot his adaptation of Herge's The Adventures of Tintin, about a young reporter (Jamie Bell) and sea captain's (Andy Serkis) search for a sunken ship, completely with motion capture performances and, in 2012, it would take home the Golden Globe for Best Animated Feature.
Stream it on Crackle.
War Horse (Netflix)
While Steven Spielberg's "one for them" in 2011 was The Adventures of Tintin, his "one for him" was War Horse, an Academy Award-nominated epic adapted from Michael Morpurgo's novel (which was also made into a stage play) and also starring Benedict Cumberbatch and Tom Hiddleston, about a young Englishman (Jeremy Irvine) who enlists into the military in hopes to reunite with his beloved horse after it is sold into the cavalry during War War I.
Stream it on Netflix.
The BFG (Disney+)
For his first time directing a feature-length Disney production, Steven Spielberg chose to adapt Roald Dahl's 1982 novel The BFG, which was written for screen by late E.T. scribe Melissa Matthison and stars Academy Award-winning Mark Rylance in the title role of a "big, friendly giant" who finds an unexpected ally in defeating the larger malevolent creatures of his world in a London orphan named Sophie (Ruby Barnhill).
Stream it on Disney+.
Are you already clearing your schedule for the ultimate Steven Spielberg movie binge and what is your favorite of his unforgettable filmography? Let us know in the comments and be sure to check back for updates on the legendary director as well as additional streaming recommendations here on CinemaBlend.
Jason has been writing since he was able to pick up a washable marker, with which he wrote his debut illustrated children's story, later transitioning to a short-lived comic book series and (very) amateur filmmaking before finally settling on pursuing a career in writing about movies in lieu of making them. Look for his name in just about any article related to Batman.
Your Daily Blend of Entertainment News
Thank you for signing up to CinemaBlend. You will receive a verification email shortly.
There was a problem. Please refresh the page and try again.