Captain America Fan Art Gives First Avenger Poster A Vintage Look, And I Can't Look Away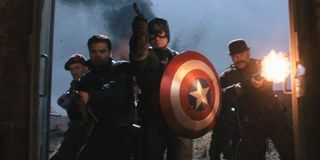 To say that Steve Rogers had quite a journey within the Marvel Cinematic Universe would be an understatement. From taking down a terrorist organization to facing off with a cosmic tyrant, the star-spangled Avenger did almost everything before handing off his shield in Avengers: Endgame. Of course, his storied character arc all began in 2011's Captain America: The First Avenger, which was a 1940s period piece. As such, a fan has now taken the liberty of giving the original poster a classic makeover, and the result is very impressive.
An actor and artist by the name of John Black posted his own interpretation of the Captain America: The First Avenger poster on Instagram. However, his version depicts the characters as their classic comic book counterparts. And in case you're wondering just how accurate it is, Black even includes side-by-side comparisons to the original. Take a look at the sweet piece of art for yourself:
John Black seems to enjoy turning modern-day posters into classic works of art, as this isn't the first MCU poster to get the vintage treatment from him. He previously provided classic takes on the posters for both Avengers: Infinity War and Endgame.
Whether you're a comic book fan, a follower of the MCU or both, you can't help but appreciate this fan art. It seamlessly integrates every element of the original poster and translates it into something that could've easily appeared in a Jack Kirby comic book.
Captain America: The First Avenger may not get the amount of love that its sequels received, but it still stands as one of the MCU's most underrated installments. The Joe Johnston-directed feature gave audiences a pulpy and less cynical take on the shared universe, which, at the time, was a far cry from the contemporary and fantastical elements we'd already seen.
Screenwriters Christopher Markus and Stephen McFeely admitted to taking heavy inspiration from Raiders of the Lost Ark while crafting the story, which ultimately aligned well with Johnston's vision.
The First Avenger also marked an important moment in the MCU franchise. It not only introduced us to the man who's (chronologically) the series' first superhero, but it also planted the seeds for the bigger adventure that would occur in The Avengers. It would also establish the origins of S.H.I.E.L.D., a concept that's currently being explored in Agents of S.H.I.E.L.D.'s final season.
In addition, characters like Peggy Carter, Jim Morita and Dum Dum Dugan would go on to appear in other projects, with Carter even headlining her own '40s-set series.
All in all, the Marvel Cinematic Universe owes a great deal to Captain America: The First Avenger, and this poster is a more than fitting tribute to Steve Rogers' debut in the blockbuster franchise. And if this poster makes you want to revisit the film, you can stream it now on Disney+.
Covering superheroes, sci-fi, comedy, and almost anything else in film and TV. I eat more pizza than the Teenage Mutant Ninja Turtles.
Your Daily Blend of Entertainment News
Thank you for signing up to CinemaBlend. You will receive a verification email shortly.
There was a problem. Please refresh the page and try again.