Mission: Impossible 7 -- Working With Tom Cruise Is The Real Deal, Says Nicholas Hoult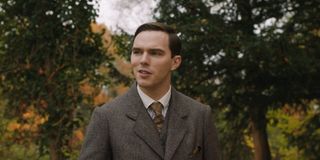 Nicholas Hoult has been having an exciting career lately. He's played Nikola Tesla in The Current War, J.R.R Tolkien in Tolkien, and more popularly the furry blue mutant Beast in Dark Phoenix, but now he's taking on impossible missions in a yet to be revealed role with Tom Cruise in the Mission: Impossible 7.
In an interview with ET, Nicholas Hoult shared a little bit about his personal life and becoming a dad before transition to what it's like working with Tom Cruise on the set of Mission: Impossible 7. He didn't give any details about his Mission: Impossible role, but he only had great things to say about Tom Cruise. Here's what he said:
There's no denying Tom Cruise is dedicated to his craft, especially with death defying stunts in the Mission: Impossible movies. For Mission: Impossible 7, it's been reported Tom Cruise already has three obscene stunts planned that apparently make the helicopter chase in Mission: Impossible – Fallout look like "tinker toys."
Nicholas Hoult, for his part, is also committed to his craft, playing Beast in four X-Men movies. However, with X-Men: Dark Phoenix ending its run as the lowest grossing movie of the franchise, it's been put into doubt whether or not Disney will just reboot the entire thing. But Nicholas Hoult has come out saying he'd be interested in playing the character again in the MCU.
Unfortunately for Mission: Impossible fans, both Mission: Impossible 7 and Mission: Impossible 8 were pushed back due to current events. Originally, the seventh installment was going to be released on July 23, 2021, but they moved it to November 19, 2021 with the eighth installment releasing November 4, 2022.
This all comes because of the many Mission: Impossible 7 production delays. Recently, it was reported producers were trying to decide if they would move forward with their planned Italy shoots or scrap them.
Still, despite production delays, Tom Cruise continues to show his commitment to his craft by moving forward anyway. Apparently, he performed motorcycle stunts on a test track, a track previously used on the show Top Gear, in the United Kingdom.
I'm curious to see who Nicholas Hoult will play in the next two Mission: Impossible movies. From the interview, it sounds like he won't be a just sitting behind a desk, but will be hopping into the fray himself.
Your Daily Blend of Entertainment News
Thank you for signing up to CinemaBlend. You will receive a verification email shortly.
There was a problem. Please refresh the page and try again.