Zack Snyder's Justice League Could Be DC Comics' Huge Second Chance At A Cinematic Universe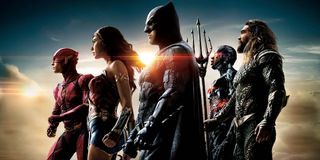 CinemaBlend participates in affiliate programs with various companies. We may earn a commission when you click on or make purchases via links.
Most look at the new developments that see Zack Snyder's Justice League headed to HBO Max as nothing more than fan service. The vocal push to "release the Snyder Cut" has achieved its end through the various efforts of its people, and to some that might feel like the end of the road. And yet, it also looks like that very project could become DC Comics' second chance at restoring its planned cinematic universe.
Spending around or upwards of $30 million might seem like a tactic to give HBO Max more content to work with, as we've seen even larger amounts of money blown before when it comes to singular projects. But some recent developments and a couple of exciting thoughts have me believing that maybe, just maybe, the DC Extended Universe will ride again.
The DC Extended Universe Just Became An Official Brand
As we saw during the big launch of HBO Max, what was once unofficially named the DC Extended Universe has now been locked into the streaming service's branding. It's an easy way to keep the branding straight, as new and exciting projects like The Batman start to take their places outside of the lineup that almost kicked off a bigger universe earlier. But is it really just a name of convenience, or is Warner Bros ready to start flexing a very particular muscle yet again?
With the DC Extended Universe firmly established as a brand, there's now a potential framework that can lead to further projects to exist under this new umbrella. Zack Snyder's Justice League is the first title that'll test those waters once it hits HBO Max. Should that test be a successful launch, some pretty big developments could follow. Much as DC Comics has always had the "Elseworlds" or "Black Label" marketing to separate certain projects, the DC Extended Universe might be a unique branding structure that keeps moving in a self-contained manner.
Zack Snyder's Justice League Could Restore The Original Two-Part Structure
From the very beginning of its development, Justice League was supposed to be a two-part theatrical event. Justice League Part Two would have been a June 2019 release, picking up where the original vision Zack Snyder had for Justice League Part One left off. Unfortunately, Justice League went on to be the official title of that first film, and Part Two would be postponed indefinitely.
As Zack Snyder's Justice League will restore a lot of the initial vision of that project, there's always room for the intended cliffhanger to be more than just a curiosity. Everybody knows that if this version hits better than Justice League's theatrical cut did upon its release, fans will want more. That would be the obvious cue for Justice League Part Two to move into production.
Henry Cavill's Latest Superman Negotiations Could Mean A Whole Lot More
As it stands right now, the latest negotiations for actor Henry Cavill to return to the role of Superman do not include any sort of participation in a Man of Steel sequel. Potential cameos appearances, and maybe even some (if any) clean-up work that'll have to be done with Zack Snyder's Justice League sound like they'd be the reasonable scope of what's being discussed.
Yet keeping the star of The Witcher under the Warner Bros roof might be something that could eventually see Man of Steel 2 finally moving forward with Henry Cavill in the lead role. Whether it's Zack Snyder returning to the director's chai, or another exciting prospect taking over the reins, Cavill could get to fly solo again if the public demands it.
Dormant Films Like The Flash and Cyborg Could Become HBO Max Originals
When the DC Extended Universe first started chugging along on the rails to cinematic glory, there was a plan for how the entire universe of solo and team-up films would proceed. Two of the most infamously derailed movies on that calendar happened to be the individual franchise starters for Ezra Miller's Flash and Ray Fisher's Cyborg.
As of this moment, one of those movies seems to still be in development, with the other waiting for its turn in the limelight. But if Zack Snyder's Justice League happens to be the silver bullet hit HBO Max is looking for, more DC Extended Universe projects could become Max Originals to help build the IP library for this particular service. Meaning that Ezra Miller and Ray Fisher just might get to finally fulfill their dreams of ruling the screen in their own respective side stories.
Flashpoint Can Serve As The DC Extended Universe's Huge Endgame
Resurrecting the DC Extended Universe brand isn't meant to keep things going without a clear goal in sight. As much as Zack Snyder's Justice League is meant to bring his original vision of Justice League to life, bringing back the DCEU eventually has one huge endpoint that limits the work it can do for HBO Max, and its name is Flashpoint.
It's been an on again/off again prospect, but The Flash movie being developed by writer/director Andy Muschietti looks like it might be using that iconic DC Comics story as its inspiration yet again. So why not use this opportunity to honor the DC Extended Universe's memory, while putting this brand to rest in its own corner of the DC Comics canon?
With solo films like Wonder Woman 1984 and spinoffs like The Trench acting as the focus for Warner Bros' post-Justice League blueprint for filmmaking, any return to the DC Extended Universe would have always been a limited time offer. If Zack Snyder's Justice League is the end all, be all showstopper people are hoping it will be, then maybe, for as long as it can be maintained, the DCEU will be able to wrap itself up as it had always intended.
Zack Snyder's Justice League will be headed to HBO Max at some point in 2021, so there's plenty of time to think over what could take place in the future. It's also the best opportunity for DC Comics fans to check out what the platform can already offer them, as a 7-day free trial offer (opens in new tab) is perfect to help non-subscribers see what they're missing.
CinemaBlend's James Bond (expert). Also versed in Large Scale Aggressors, time travel, and Guillermo del Toro. He fights for The User.
Your Daily Blend of Entertainment News
Thank you for signing up to CinemaBlend. You will receive a verification email shortly.
There was a problem. Please refresh the page and try again.