Why It's Unfair To Compare Tracee Ellis Ross' Voice To Diana Ross' In The High Note, According To The Director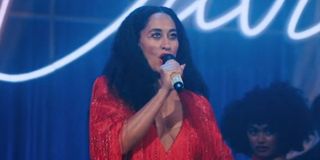 Since she's Diana Ross' daughter, it was only natural for Tracee Ellis Ross to expect some comparisons as she forged her own career in Hollywood. That's especially true now that she's making her singing debut in Nisha Ganatra's The High Note. But according to the director, just because comparisons can be made between the actress and her legendary mother doesn't mean they should be.
In The High Note, Tracee Ellis Ross plays pop superstar Grace Davis. Though the film isn't strictly about her character's on-stage life, fans do get to see the singer in action during the film. Nisha Ganatra clearly knew that by casting Tracee Ellis Ross, she would be inviting some comparisons, and that left her feeling some pressure. She made it clear, though, that she thinks Tracee Ellis Ross' work should be able to stand on its own:
Nisha Ganatra also told Collider that she thinks that Tracee Ellis Ross' acting and singing skills more than pass muster, with or without comparison to Diana Ross.
She said she couldn't imagine anyone else playing the role of Grace Davis and that she was awed by her ability to take a role that could have come off as a one-note diva and give her the vulnerability and depth necessary to make her an interesting character.
Even though there will likely continue to be comparisons, Tracee Ellis Ross has also said that she worked to make her role in The High Note entirely her own and that Grace Davis is not based on her mother in any way. In fact, the Blackish actress didn't even discuss the role with her mother until she was in the process of making demos in preparation for the movie.
The High Note is currently available to view on VOD.
Your Daily Blend of Entertainment News