How Michael B. Jordan Found Out About His Surprise The High Note Cameos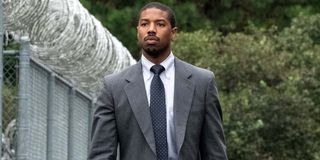 The High Note is filled with its fair share of star power, from leading ladies Tracee Ellis Ross and Dakota Johnson to supporting actors Kelvin Harrison Jr. and Ice Cube. However, there is one actor who doesn't actually appear in the film but does splay a significant role – Michael B. Jordan. The A-list actor plays is a key element in the personal life of Ross' character, Grace Davis. Jordan would eventually become aware of his role in the rom-com, and the news came to him at a somewhat surprising moment.
The film establishes that famous singer Grace Davis is currently dating Michael B. Jordan. The High Note director Nisha Ganatra revealed that this wasn't in the original script but was added during filming. With this, Jordan had no way of knowing he would have a presence in the movie, so Tracee Ellis Ross made sure to let him know:
Believe it or not, Michael B. Jordan was pleasantly surprised to hear the news and was even willing to shoot an actual cameo, Ganatra told Refinery29. Unfortunately, filming had already wrapped by the time he voiced his interest:
Having Michael B. Jordan serve as an unseen character in the film was a fun creative decision on Nisha Ganatra's part. Not only does it add a layer to Grace Davis' character, but it's also a fun wink and nod to Jordan and his fanbase. And it's all made sweeter by the fact that Jordan himself loved the idea.
With this, Michael B. Jordan now joins a rare club of celebrities who've played major roles in films without having actually appeared in them. One can go back to the 2002 family comedy Like Mike, in which a teen finds a pair of shoes that apparently belonged to Michael Jordan. As a result, the basketball legend is mentioned a few times throughout the movie.
Another example would be the critically panned Fanboys, which included more than a few references to George Lucas, with the Star Wars creator even giving orders off screen near the end of the film.
Although that particular example is a bit ham-fisted, The High Note seems to have injected just the right amount of Michael B. Jordan into its story. But then again, based on his performances, too much Michael B. Jordan isn't necessarily a bad thing.
The High Note is now available to rent or own on VOD.
Covering superheroes, sci-fi, comedy, and almost anything else in film and TV. I eat more pizza than the Teenage Mutant Ninja Turtles.
Your Daily Blend of Entertainment News
Thank you for signing up to CinemaBlend. You will receive a verification email shortly.
There was a problem. Please refresh the page and try again.