Why Anna Kendrick's Love Life Episodes Are Now Hitting HBO Max A Lot Sooner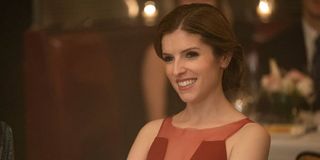 Anna Kendrick's Love Life is the first scripted HBO Max series and with that comes a lot of responsibility. Luckily, things have been going well since the romantic comedy series debuted on May 27, alongside the new streaming series launch. There's already some good news for Love Life. Fans of the series, which was scheduled to air its episodes weekly, are getting new episodes of the HBO Max series a lot sooner.
The first three episodes of Love Life premiered to a generally positive audience response. HBO Max execs saw that viewers were liking what they were seeing and decided that, instead of dropping weekly episodes, the remaining episodes of Love Life would drop in batches. Episodes 4-6 will debut on June 4, while the remaining four episodes will be released on June 11. In a statement, Sarah Aubrey, head of original content at HBO Max, addressed the audience reception and the decision to change the release format for the show. Here's what she had to say:
The fact that HBO Max is offering viewers a "reward" for watching the show immediately following its release means that they won't have to wait several weeks before they find out what happens with Anna Kendrick's Darby and her journey to finding love.
It's a rare thing for a streaming service to change up its schedule. Typically, streamers like Netflix and Hulu have released entire seasons all at once, though the latter has switched things up occasionally. The Handmaid's Tale Season 3, for example, aired weekly following the premiere of the season's first three episodes. Granted, HBO Max is still relatively new and I think we'll see many more adjustments made before things settle.
Love Life is Anna Kendrick's first major live-action TV role. The Pitch Perfect actress recently revealed why she refused to do any nudity for her new HBO Max series. Kendrick admittedly had a very good reason for why she opted out of baring her whole body for the cameras. It's not the first time she's discussed the reasons why she won't do nude scenes. That said, Love Life does have some suggestive scenes, but don't expect to see Kendrick naked in any of them.
Love Life Season 1 is currently available to stream on HBO Max (opens in new tab), alongside many other viewing options. Keep an eye out for new episodes, which will air every Wednesday through June 11. For more on what to watch in the meantime, be sure to check out our 2020 summer TV premiere guide.
Your Daily Blend of Entertainment News
Thank you for signing up to CinemaBlend. You will receive a verification email shortly.
There was a problem. Please refresh the page and try again.