The Goonies 2 Got Concept Art For A Pitch, Check It Out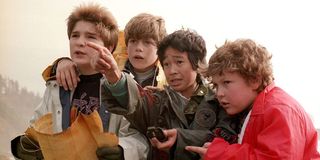 The Goonies 2 has long been a fragile hope for many fans of the 1985 classic. Over the years, filmmakers have pitched their ideas, but nothing ever held water. Now, it seems, another filmmaker is giving it the old college try and revealed his concept art for a pitch.
That filmmaker is none other than Adam F. Goldberg, the producer and screenwriter of The Goldbergs, and all-around super fan of The Goonies. He went to social media to share his concept art behind his vision of The Goonies 2. Check it out:
This is pretty cool art and totally highlights the lengths Adam F. Goldberg has taken to bring his script to the next level. And, he certainly isn't the only one to take a crack at writing a treatment for The Goonies 2.
Last year, Corey Feldman revealed that he and fellow-Goonie Sean Astin wrote their own 10-page treatment of The Goonies 2. They even were able to get it in front of the eyeballs of Richard Donner and a representative of Steven Spielberg and Chris Columbus. However, they were turned down because they said it was "too expensive."
For Adam F. Goldberg, his The Goonies 2 script has been a labor of love. In a related tweet, he said that he's spent over 9 years writing it and called it his "masterpiece." He said he had a meeting with Richard Donner about it, but it was cancelled due to the lockdown. Check it out:
With so many attempts at making The Goonies 2, it feels like a lost cause at this point and Steven Spielberg seems to share that sentiment. Earlier this year, he explained why The Goonies 2 never got off the ground, saying they had a lot of ideas but nothing works because the bar has been raised so high for the genre.
The Goonies have been put more in the spotlight recently after Josh Gad announced he would be hosting the cast on his YouTube channel in a live Zoom chat. After watching The Goonies again with his kids, Gad realized he needed to see the cast get back together and started reaching out to each member, one by one.
Despite the obstacles, The Goonies super fans are still holding out hope that a sequel could be on the horizon. I share Adam F. Goldberg's hope that eventually this thing is going to get made. By all means, it feels like The Goonies 2 should happen. It shouldn't be that hard, right? After all, Top Gun and Bill and Ted's Excellent Adventure are both getting sequels, so why not The Goonies? Goonies never say die.
Your Daily Blend of Entertainment News