Apparently, A Goonies 2 Pitch Was Written But Never Produced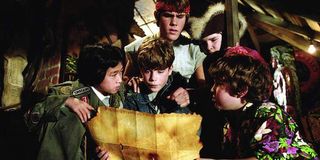 The Goonies is one of the beloved movies the '80s ever produced. Heartfelt, funny, frightening, and full of lovable, quirky characters, the film captured the hearts and curiosities of millions and became an instant classic. In fact, it's still so popular that even Deadpool had something to say about the film. Oh, and the main characters even appeared as LEGOs. Couple those references with the fact that the film's screenwriter won't ever abandon a sequel and you've got a film that won't ever leave our cultural consciousness.
Unfortunately for that screenwriter, one of the film's leading actors basically confirmed that a sequel is unlikely. Improbable might even be a better word. During a recent interview with Us Magazine, The Goonies star Corey Feldman revealed that budget constraints kept a sequel from ever being greenlit.
A sequel to The Goonies would've been cool, but where could they have taken the story? The original wrapped things up so well that it's difficult to imagine a sequel stacking up or even being necessary.
That questions coupled with this new revelation from Corey Feldman, is probably why Sean Astin (who, long after The Goonies, also appeared in another kid-led mystery series) doesn't think a sequel will ever happen. Knowing what we know now, he's probably correct. And that's a bummer for the generations of fans, especially because both Corey Feldman and Sean Astin have been fighting for a sequel for decades.
Alas, the pair of actors would know this disappointment better than anyone. And it sounds like they were undoubtedly quite disappointed when Richard Donner shot down the idea. I would have too, especially if I was associated with the film the way they are.
On a more positive note, it's nice to see that two of the movie's best and most famous actors are still passionate about the project, even if making it isn't feasible. All of the film's performers emanate enthusiasm. I noticed it when I watched the film as a kid and I still catch it every time I watch it now.
It's somewhat sad, but any hope for a Goonies sequel is probably squashed now. Despite the film world's penchant for reboots.
What do you think? Where would you have liked to see them take the story if it were ever produced? Would making a sequel to The Goonies even have been a good idea or does the classic stand well enough on its own? I'm going with the latter option, but tell us what you think. Sound off in the comments below and make sure you check out our 2019 movie release schedule.
Your Daily Blend of Entertainment News