Prominent Marvel And DC Writer Denny O'Neil Is Dead At 81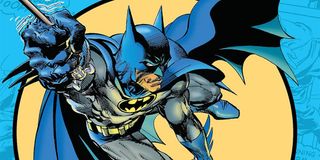 In the comic book business, it's hard enough leaving a memorable imprint on one character, let alone many. However, during his time writing for both Marvel and DC over the decades, writer Denny O'Neil managed to leave unique marks on multiple heavy hitters in the world of superheroes, including Batman, Green Arrow and Spider-Man. Sadly, O'Neil is no longer with us, having passed away at the age of 81.
Denny O'Neil's family confirmed to Newsarama that he died of natural causes last night, June 11. Born in 1939, O'Neil kicked off his comic book career when he was hired by Marvel in the mid-1960s after Roy Thomas, who would also become a hugely influential comic book writer, suggested that he take the Marvel's writers test. O'Neil's early work over at the House of Ideas included short-lived stints on Doctor Strange, Daredevil and the X-Men.
Shortly after going from Marvel to Charlton Comics, Denny O'Neil kicked off his iconic time with DC Comics when he and a number of other Charlton freelancers were brought over. O'Neil started off writing for books like Wonder Woman and Justice League of America, but he really made a splash when he started tackling Green Arrow, with the writer stripping Oliver Queen of his wealth and turning him into a socially-conscious, left-wing superhero. O'Neil then teamed with artist Neal Adams (one of their many collaborations on Green Lantern/Green Arrow, a book that addressed numerous political and social issues as the eponymous heroes fought crime together.
This paved the way for Denny O'Neil to take the reins on Batman in the 1970s. His iconic run with the Caped Crusader in this period saw Batman's stories becoming less campy (as was so common during the Silver Age of Comics) and more serious, which reflected Batman's darker roots. He also co-created characters like Ra's al Ghul, Talia al Ghul and Leslie Tompkins, as well as revitalized iconic villains like The Joker and Two-Face. The al Ghuls are especially notable, as they would go on to be featured in Christopher Nolan's Dark Knight trilogy and the Arrowverse, as well as Ra's appearing in Gotham.
Denny O'Neil's other notable accomplishments during his time at DC Comics in the '70s included writing various Superman stories and tackling pulp hero The Shadow, but by 1980, he jumped back over to Marvel Comics, where he wrote for characters like Spider-Man, Daredevil and Iron Man. These stints saw O'Neil introducing characters like Madame Web, Hydro-Man, Obadiah Stane and Lady Deathstrike, with the latter three having already appeared on film, and Web being lined up to get her own movie.
By the mid 1986, Denny O'Neil returned to DC Comics to be the editor of the Batman books, a position he would hold for nearly a decade and a half and included him overseeing the death of Jason Todd, the second Robin. In addition to also penning various Batman titles and graphic novels during that time, O'Neil also wrote The Question and the Armageddon 2001 crossover event.
Outside of the comic book realm, Denny O'Neil wrote episodes for the TV shows G.I. Joe: A Real American Hero, Logan's Run, Superboy and Batman: The Animated Series, as well as various comic book-related novels, such as the novelizations for Batman Begins and The Dark Knight. It should also be noted that when O'Neil was at Marvel Comics, the company was churning out Transformers stories, and he is credited for naming lead Autobot protagonist, Optimus Prime.
We here at CinemaBlend offer our condolences to Denny O'Neil's family and friends. If you were a fan of his work, let us know in the comments below.
Connoisseur of Marvel, DC, Star Wars, John Wick, MonsterVerse and Doctor Who lore. He's aware he looks like Harry Potter and Clark Kent.
Your Daily Blend of Entertainment News
Thank you for signing up to CinemaBlend. You will receive a verification email shortly.
There was a problem. Please refresh the page and try again.