What This Is Us' Justin Hartley Loved About Playing Green Arrow On Smallville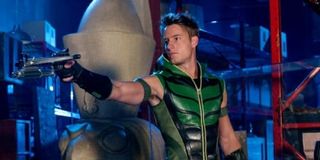 Justin Hartley may now be known for bringing out the emotions by playing This is Us' Kevin Pearson, but long before landing his role on the successful NBC show, Hartley donned Green Arrow's famous green leather on Smallville. While it's been years since that superhero series ended, Hartley recently reflected on what he loved about playing Oliver Queen, as well as the importance of being a costumed superhero.
Before Stephen Amell put on the hood in Arrow, it was Justin Hartley who paraded around The CW (previously The WB) in the green costume, saving the day, mingling with Lois Lane, and charming the socks off of Smallville's audience at the time. Sometimes, he was even able to conjure a small laugh from the ever-broody Clark Kent. Green Arrow's introduction to the show was, in hindsight, a game-changer. In an interview with EW, Hartley revealed some of the reasons why Oliver Queen became so popular on Smallville, and why he enjoyed the portrayal. In his words:
It's just too bad that the actor didn't appear in the cameo-heavy Arrow-verse crossover "Crisis on Infinite Earths." He definitely would've been in good company alongside former co-stars Tom Welling and Erica Durance, both of whom reprised their respective roles as Clark Kent and Lois in the second episode of the five-part crossover.
Justin Hartley also revealed that Oliver Queen was originally supposed to appear in only "four or six episodes" of Smallville. However, the emerald archer made quite an impression on the audience. First introduced in the series' sixth season, Hartley's role was ultimately expanded and he ended up appearing in 72 episodes of Smallville, which arguably paved the way for The CW's current superhero line-up.
Since his Smallville days, Justin Hartley had starring roles in The Young and the Restless and Passions before landing a leading role in This is Us, where his portrayal of Kevin is arguably a bit more of a hot mess than a superhero. That said, it would be interesting if Kevin, an actor, would ever land a role on a linear TV superhero series where he had to put on the Green Lantern costume again. It's not going to happen, of course, but one can dream.
This Is Us airs Tuesdays at 9 p.m. ET on NBC. For more on what to watch, check out our 2020 midseason schedule.
Your Daily Blend of Entertainment News