The Flash Producer Provides An Update On The Film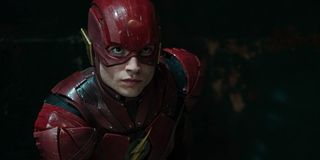 In this post-Snyder Cut world where anything is possible, you'd think that the Flash could easily have his own standalone movie by now. But up to this point, the Fastest Man Alive has been slow to the party. However, that now may be turning around with a new update from The Flash producer Barbara Muschietti.
I shouldn't have to remind DC fans that Wonder Woman, Aquaman, and even the Suicide Squad are running laps around the Flash in terms of movies being made. It's felt almost hopeless that the Flash would ever get his own movie. But The Flash producer Barbara Muschietti recently provided a quick comment on the production when asked about it on social media. Here's what she said:
Well, that's better news than "it's stalled" or "I have no idea," so I'll take it. I'm now looking forward to what news Barbara Muschietti and husband Andy Muschietti have for us.
The Flash was first announced back in 2014 as part of Zack Snyder's grand DCEU vision. Seth-Grahame Smith would be the first of many directors tapped to take on the project. Within a year, he departed and a game of director hot potato ensued.
Rick Famuyiwa, John Francis Daley and Jonathan Goldstein were all at one time attached to The Flash as directors, with many other big director names considered as well. Since then, the hot potato has landed in in the capable hands of Andy Muschietti, who is primarily known for directing horror movies Mama, It, and It Chapter Two.
Early this year, we got a little hint that something might be brewing with The Flash production. Stunt coordinator Eunice Huthart said she was slated to start working on The Flash at the beginning of May but that halted due to the industry-wide shutdowns.
It's hard to say why it's taken this long to get The Flash off the ground, but could it be (and I'm just speculating here) that the complicated nature of telling a convincing time travel story has slowed things down?
We first got a whiff that Zack Snyder's vision for the Flash would involve time travel when the Scarlet Speedster made a brief appearance in Batman v Superman: Dawn of Justice, during which he warned Ben Affleck's Bruce Wayne.
Last year, Andy Muschietti confirmed that he and the studio are making Flashpoint, a story about the Flash going back in time to stop his mother's murder. No matter what, time travel stories are typically messy, and they likely want to make sure they don't screw up continuity.
Whatever the reason for its long slog, The Flash movie seems to be still happening. Hopefully, after all the time it has taken them to bring it into reality, it'll be a solid addition to the DCEU.
The Flash is currently set to hit theaters on July 1, 2022.
Your Daily Blend of Entertainment News