8 Quick Things We Know About The Suicide Squad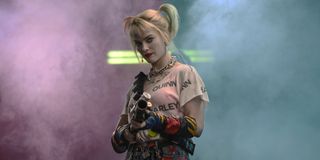 If there is one particularly frustrating thing about being a fan of comic book blockbusters, it's the high level of secrecy that surrounds the various productions. Movie-goers always have a wide variety of different questions about the different properties, but the mission for all involved at all times seems to be to reveal as little as humanly possible. The good news is that bits and pieces squeeze out over time that people can study and analyze, and proving no exception is the film that will feature Margot Robbie's next turn as the beloved Harley Quinn: 2021's The Suicide Squad.
As per the norm, there are certain parts of The Suicide Squad that are being kept strictly under lock and key, but there are key bits of information that have come to light in the past couple of years that we are going to highlight here. So without further ado, let's dig into eight quick things we know about the upcoming DC Comics adaptation:
James Gunn is Writing and Directing The Suicide Squad
After being fired by Marvel Studios in summer 2018, James Gunn sat in a very strange position – as he suddenly found himself as an in-demand filmmaker with all kind of free time ahead of him. And while he eventually reconciled with Marvel and will soon start work on Guardians of the Galaxy Vol. 3, that new deal wasn't brokered until after Gunn took meets with Warner Bros about the future of the DC Extended Universe. After initially only signing on to write the script for The Suicide Squad, he signed on the dotted line to direct in January 2019.
The Suicide Squad Won't Exactly Be a Sequel, and It Won't Be a Reboot
In the wake of Justice League's disappointing release, the status of the DC Extended Universe has become a bit fractured. While the franchise continues to produce in-canon films, like the upcoming Wonder Woman 1984, divergent projects like Joker and The Batman are being tossed in the mix as well. As for The Suicide Squad, it seems that it will be a film that straddles the two options. There will be recognizable elements from past DCEU titles (as will be discussed further in a minute), but James Gunn has said terms like "reboot" and "sequel" are too narrow for what he's creating.
There Are a Number of Returning Stars From the First Suicide Squad
Calling The Suicide Squad by the name Suicide Squad 2 is a bit of a misnomer given the aforementioned distancing the project is doing from the word "sequel," but it should be noted that there are key characters from the David Ayer movie who will be back for the James Gunn adventure. Specifically, Harley Quinn will be back for her third time playing Harley Quinn, and she will be joined by Jai Courtney as Captain Boomerang, Viola Davis as Amanda Waller, and Joel Kinnaman as Rick Flag. Just don't expect them to be exactly as they previously were.
There Are Even More New Stars Joining the Ensemble for The Suicide Squad
Part of the fun of Suicide Squad stories is the fact that there are some characters who are included simply to be expendable – and James Gunn has loaded his The Suicide Squad ensemble with some high profile actors who could make very early exits in the movie. It's been confirmed that David Dastmalchian will be playing Polka-Dot Man, Daniela Melchior will be Ratcatcher, and Steve Agee will voice King Shark, but also part of the cast in unspecified roles are Idris Elba, John Cena, Flula Borg, Nathan Fillion, Peter Capaldi, Pete Davidson, Alice Braga, Sean Gunn, Michael Rooker, Taika Waititi, and more.
Will Smith Won't Be Back, But Idris Elba Isn't Playing Deadshot in The Suicide Squad
You may have noticed that Will Smith's name is not mentioned among the list of Suicide Squad stars ready for round two, and that's evidently because he had scheduling conflicts that prevented him from being available. But if you've heard stories that Idris Elba will be taking over his role as Floyd Lawton a.k.a. Deadshot in The Suicide Squad, fret not. While that was reportedly an idea that was had when Elba was in talks for the project, it was eventually decided that he should play a different character, keeping the door open for Smith to return to his DCEU part at some point in the future.
The Suicide Squad is Expected to Have an R-rating
A couple years back, Deadpool opened the door wide open in demonstrating the full potential for R-rated comic book movies, and Joker took things even further in 2019 when it made over a billion dollars and became the highest grossing R-rated feature of all time. While still making PG-13 material as well, DC has kept that particular train rolling with Birds of Prey, and it's expected that The Suicide Squad will follow suit as well. James Gunn has not yet confirmed it, but given his track record, and the material there is a certain expectation.
The Suicide Squad will be released on August 6, 2021
DC Comics has some massive plans lined up for the next few years, with a total of eight projects set to come out between now and the end of 2022. As far as release dates go, The Suicide Squad is towards the middle of the pack, set to come out on August 6, 2021 – following both Wonder Woman 1984 (August 14, 2020) and The Batman (June 25, 2021). The movie has already gone through principal photography, completing its final day of shooting on February 28, and it is now in post-production.
The Suicide Squad Isn't Expected to Be Delayed By the Covid-19 Pandemic
While there are a large number of developing films that have found their schedules disrupted as a result of the Covid-19 pandemic – either because of productions being shut down, or post-production teams being unable to work together – it seems that The Suicide Squad is not one of those projects. Like many DCEU productions, the film was given a pretty cushy schedule from the start, providing more than a year of editing time, and in hindsight it looks like that was a great call by Warner Bros. James Gunn has been able to continue to work on the blockbuster while in his home practicing social distancing protocols.
Thanks to updates from the stars and filmmakers making the movie, we have a fairly good idea of what to expect from The Suicide Squad – but there are still plenty of things that we don't know. Some will be revealed in the coming months, and other details we won't know about until the film is in theaters. One thing that is for certain, though, is that you'll be able to find coverage of all of it here on CinemaBlend.
Your Daily Blend of Entertainment News
Assistant Managing Editor
NJ native who calls LA home and lives in a Dreamatorium. A decade-plus CinemaBlend veteran who is endlessly enthusiastic about the career he's dreamt of since seventh grade.